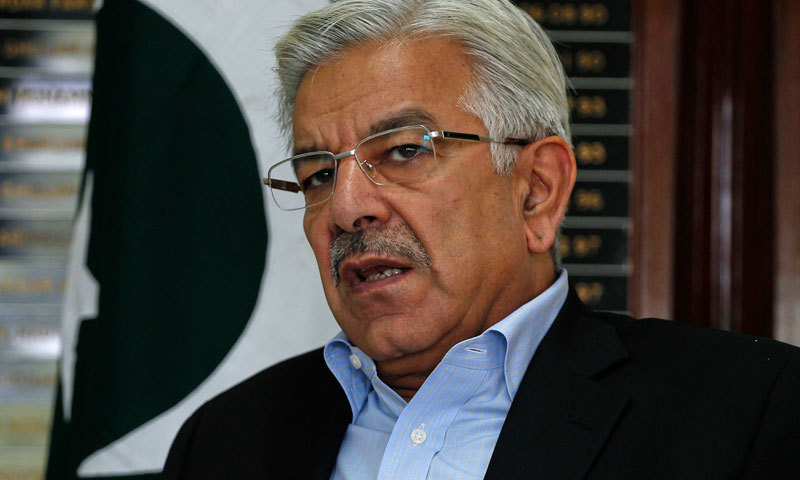 ISLAMABAD: Defence Minister Khawaja Asif on Friday said the government had adopted a two-pronged strategy to come to a solution for the crisis in Yemen.
Speaking to media representatives at the Benazir Bhutto International Airport, Asif said the government was committed to Saudi Arabia's security as well as finding a peaceful solution for the Yemen issue.
Read more: Another 176 stranded Pakistanis arrive in Islamabad from Yemen
"One the one hand, we stand committed to the Saudis' security and territorial integrity and we have spelt that out very clearly," said Asif. "But on the other hand, we are using the option of bringing the Muslim countries together to find a peaceful solution for the crisis in Yemen," he added.
The defence minister also said that the government had called a joint-session of the Parliament on Monday to debate the Yemen issue in order to develop "a broad consensus" about Pakistan's efforts for peace in the Yemen crisis as well as in cementing "the country's efforts to secure the territorial integrity of Saudi Arabia".
Know more: PM seeks joint session of Parliament on April 6 to debate Yemen conflict
Moreover, as the special PIA flight carrying 176 stranded Pakistanis from Yemen arrived in Islamabad today, the defence minister arrived at the airport to receive the evacuees.
"The prime minister is committed to this operation [evacuation] and is overseeing the process himself," he said.
Asif also praised PIA for its efforts of evacuating Pakistanis from Yemen in this difficult crisis.
Earlier on Thursday, Prime Minister Nawaz Sharif had asked President Mamoon Hussain to convene a joint session of the Parliament to discuss the Middle East situation in detail.
The decision came in the wake of a high-level meeting chaired by Prime Minister Sharif at the PM House in which the civil and military leadership discussed the Yemen crisis and Pakistan's possible role in the conflict.
The meeting had strongly condemned actions by "non-state actors" in Yemen in the overthrowing of a legitimate government, and called upon the warring factions to resolve all issues peacefully.
Also read: Joint session on Yemen
It further decided that Pakistan's national interest would remain the guiding principle of Islamabad's policy in the crisis.
During the meeting, the premier had also stressed the need for a peaceful resolution of the crisis and promoting unity among Muslim countries.
He had further emphasised that all decisions in the matter would be taken in accordance with the wishes of the Pakistani people.