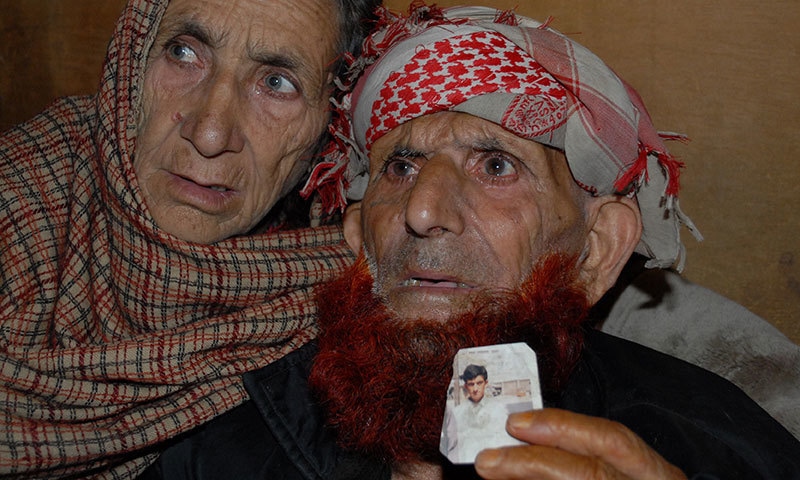 MUZAFFARABAD: The family of a man condemned to death as a teenager made an emotional appeal for mercy Friday, saying a court order for his execution next week had "shattered their hopes".
An anti-terrorism court in Karachi gave instructions Thursday to hang Shafqat Hussain, convicted of killing a seven-year-old boy in 2004, on March 19.
Explore: ATC issues black warrant for Shafqat Hussain, to be executed on March 19
Hussain's case has triggered outrage from rights campaigners, who complain he did not get a fair trial and was only 15 at the time of the killing.
His mother Makhni Begum, who last saw Hussain in jail in 2005, insisted he was innocent in an emotional interview with AFP in Kashmir, where the family are from.
Take a look: Footprints: Lives and a death on hold
"All my hopes are shattered today. I have no faith in the justice of this country," she said, tears rolling down her cheeks.
"It was my last desire to see my son but now this hope is also dying. Now I am pleading with God for my son's life,"
Hussain was working as a watchman in the sprawling, violent metropolis of Karachi in 2004 when a seven-year-old boy went missing from the neighbourhood.
A few days later the boy's family received calls from Hussain's mobile demanding a ransom of half a million rupees ($8,500 at the time), according to legal papers.
Hussain was arrested and during his first interrogation admitted kidnapping and killing Umair, whose body was found in a plastic bag in a stream.
Hussain later withdrew his confession, saying he had made it under duress, but the case came before an anti-terrorism court which sentenced him to death.
Begum said Hussain, the youngest of seven children, had run away from home to escape the grinding poverty the family lived in, hoping to make a better life for himself in Karachi, only for disaster to strike soon afterwards.
"One of our relatives called us from Karachi and let us know that our son is in Karachi and has been in jail in a murder case," she said.
Hussain had been due to face the noose on January 14 but the government halted the execution amid protests about his age, and ordered an investigation.
Jail officials said Thursday the interior ministry had rejected the age plea and a fresh death warrant had been issued.
Reintroducing the death penalty was part of Pakistan's move to step up the fight against militants since a Taliban massacre at a school in the northwestern city of Peshawar in December.
Examine: Death penalty moratorium lifted completely in Pakistan: Officials
The United Nations, the European Union, Amnesty International and Human Rights Watch have called on Pakistan to re-impose its moratorium on the death penalty.
Read more: Pakistan should reverse lifting of moratorium on death penalty: HRW
Two men convicted of rape and murder were hanged in the eastern city of Faisalabad on Friday, bringing to 27 the total executed since the government rescinded its ban.
Take a look: Two more condemned prisoners hanged in Faisalabad jail