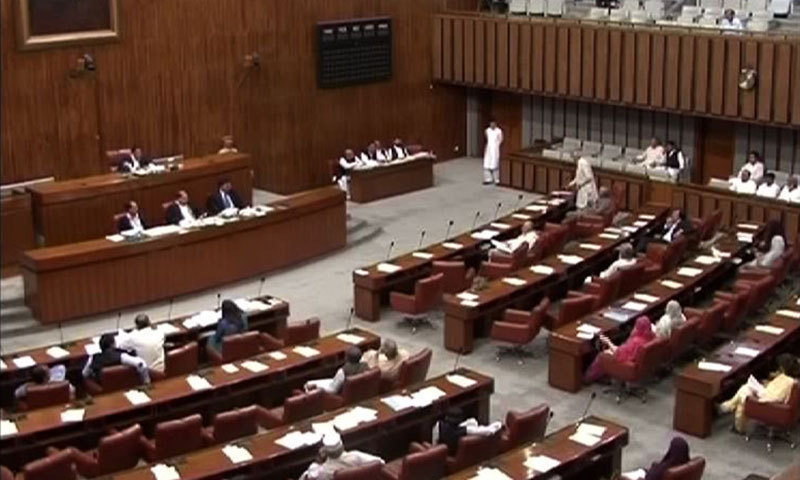 ISLAMABAD: The opposition walked out of the Senate on Friday in protest against the proposed change in the route of China-Pakistan Economic Corridor.
The issue was raised in the house at the fag-end of proceedings by Awami National Party's Zahid Khan, who deplored the cabinet's decision and regretted that the government was not ready to discuss the issue that had caused friction between the federation and the provinces.
Instead of opting for the parliamentary tradition of sending some government members to bring the protesting senators back, Senate Chairman Nayyar Hussain Bokhari adjourned proceedings until Monday afternoon within minutes of the walkout. Less than a dozen members were present on the treasury benches when the house was adjourned on Friday.
Leader of the House in Senate, leader of the opposition and parliamentary leaders of most of the parties represented in Senate were not present during the proceedings.
Anti-rape bill
Earlier, a report of the Senate Standing Committee on Law and Justice on the Anti-Rape Laws (Criminal Laws Amendment) Bill, 2014 was presented in the house. The committee has already cleared the bill, which seeks to make amendments to the Pakistan Penal Code (PPC), Code of Criminal Procedure (CrPC), and the Law of Evidence, with some amendments.
Under the proposed law, disclosing the identity of a rape victim would be a punishable offence. The legislation seeks to add Section 228-A to PPC clause 1, which reads, "Whoever prints or publishes the name or any matter which may make known the identity of any person against whom an offence under section 376 is alleged or found to have been committed shall be punished with imprisonment of either description for a term which may extend to three years and shall also be liable to fine".
Under the proposed law, a police officer who commits rape against a woman in his or his subordinate's custody, or takes advantage of his official position in any manner to commit rape, shall be punished with death or life imprisonment and shall also be liable to fine.
Under another proposed amendment, the court shall, on taking cognisance of a case under Section 376 of the PPC, decide the case within six months, failing which an application may be made to the High Court concerned for appropriate directions for expeditious disposal of the case.
Published in Dawn, February 28th, 2015
On a mobile phone? Get the Dawn Mobile App: Apple Store | Google Play