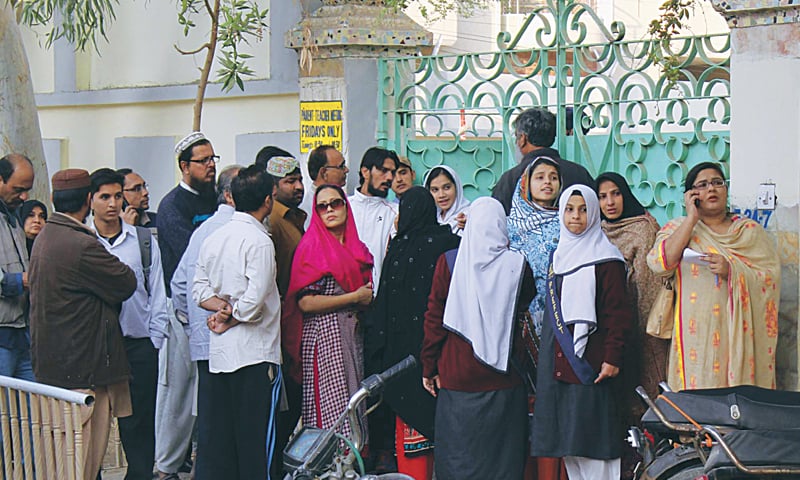 KARACHI: Cracker blasts outside two private schools in Gulshan-i-Iqbal area of the city on Tuesday morning triggered fear and panic among children and their parents amid much-hyped and recently devised detailed security arrangements in the aftermath of the Peshawar school attack.
Police were not sure whether it was a reaction from a militant outfit to the pre-dawn execution of its two condemned prisoners or was a 'third force' exploiting the threat to create a law and order situation in the city.
A bomb disposal squad official said these were minor crackers which did not cause any damage to human life or property.
According Gulshan-i-Iqbal SP Abid Qaimkhani, two men on a motorcycle threw the crackers outside Beacon House School and City School in Block-7 of the area at about 6.50am. The schools had not opened then and no children or teachers were there.
The SP said the assailants had also dropped a letter warning law-enforcement agencies as well as parents of more attacks if action against militants was not stopped.
But, according to security analysts, unlike earlier militant claims the letter did not carry the name of the organisation which had purportedly issued it which cast doubts on its veracity. Besides, terrorists usually do not issue warning of attacks in advance and, therefore, it is believed that its purpose was only to spread scare and frighten people.
SP Qaimkhani said a CCTV camera showed that one of the attackers was wearing a helmet. Witnesses told police that the attackers were being covered by two men who also were on a motorbike.
Karachi police chief AIG Ghulam Qadir Thebo told Dawn that police were investigating the attack from two angles. First, the incident took place two hours after the hanging of two men belonging to the banned Lashkar-i-Jhangvi and it might be a reaction to that.
Second, a 'third force' which wanted to create a law and order situation by exploiting such threat might be behind the attack and the letter was dropped for this particular purpose, he said.
He claimed that police had 'crippled' militant outfits in districts West and Malir.
The AIG said that a high-level team headed by Karachi East DIG Munir Ahmed Shaikh and comprising SSPs of the Special Investigation Unit and East and East Investigation had been set up to investigate the attack.
"We have also decided to provide round-the-clock security to all schools," he said, adding that police would patrol areas near schools.
The schools administrations have been asked to ensure that their own security guards remain in schools' premises round-the-clock.
Published in Dawn, February 4th, 2015
On a mobile phone? Get the Dawn Mobile App: Apple Store | Google Play