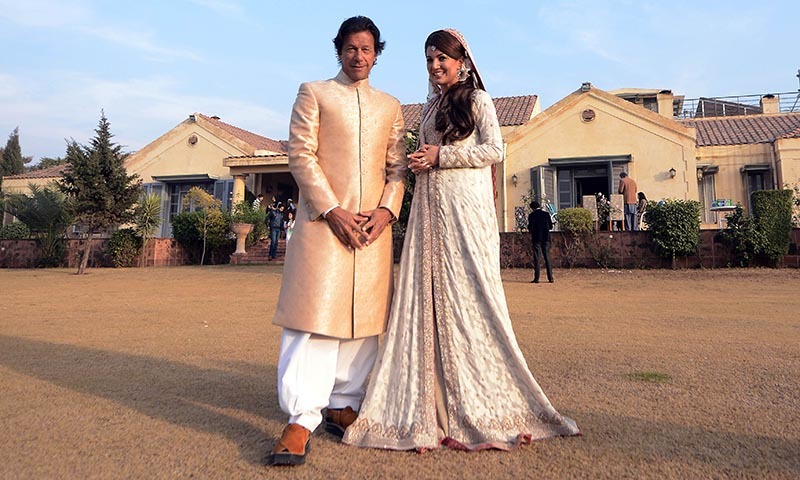 ISLAMABAD: Just eight days into the New Year, the Pakistan media stumbled upon what is already being dubbed the wedding of the year. That it was match between the one of the most popular politicians in the country and a prominent television personality only made it a bigger media spectacle.
But DawnNews, the media house where the proverbial 'First Lady of Naya Pakistan' was working as a journalist, didn't catch on until the very last minute.
"The story of the year was right under our noses all along, and all you hotshot reporters missed it completely," declared Meher Bokhari as she strode into the DawnNews newsroom on Thursday evening. Even though nobody could contradict her then, it did seem like the DawnNews staff extended a degree of professional courtesy to their colleague and chose not to run the story until such time as she made the official announcement herself.
"It was actually Dunya TV that broke the story, but as is often the case with homegrown stories, the make-up artist knew before our reporters did," one of the producers of Meher's show, NewsEye, told Dawn.
Yousaf Khan, who is Ms Khan's nephew, was present at the private ceremony that took place in Bani Gala. "My aunt's production team, some members of our family and a couple of my aunt's friends were there. It was a very small event," he told Dawn.
"Apart from my aunt, we aren't a very media savvy family, so it was a big surprise to all of us when we turned on the TV and saw our faces being splashed there."
Yousaf's only gripe, however, was that most channels did not have their facts right.
"A photo that was purported to be of my grandmother was shown on TV, but it obviously wasn't her. They didn't even get the family members' names right," he said.
But TV channels did not let up. All day Thursday, the only topic of discussion in news bulletins and talk shows was the wedding itself. Those that didn't have any new content to run seemed to be recycling old hat.
One channel pulled out an old interview where Karachi-based politician Nabil Gabol had jokingly proposed to Reham Khan on a chat show. The clip was repeated on a loop, with the tagline: 'Reham Khan will complain to Imran Khan about Nabil Gabol today'.
Media frenzy
"Imran Khan getting married is as big as it gets; whether viewed as a social or media event," said media analyst Adnan Rehmat. But rather than critiquing the press alone, he also talked about the dichotomy that existed within Mr Khan's life that makes him such a juicy story.
"Imran Khan has always been a strange creature; very open about his politics, but very closed and shy about his private life. The media doesn't see it as two lives; they see it as one, which is why we knew that if he did decide to get married, the TV coverage would be ridiculous, bordering on the crazy."
Journalist Mehr Tarar, who is no stranger to controversy herself, was much kinder in her appraisal.
"The media has been kind to them and the media seems very happy that IK has gotten married and they have something other than sit-ins and containers to talk about. They probably have 'she's one of our own'-type feelings about Reham," she said.
Recounting one of the more outlandish TV segments she'd seen in the run up to the wedding, Ms Tarar told Dawn, "I remember a channel ran a whole mock-wedding reception during one of their bulletins, with a dummy Imran and a bride with her face blacked out – because at the time nobody was sure who it would be. The host even went up to the dummies and handed them a bouquet."
News anchor and television personality Maria Memon thought the coverage of #ImranWedsReham was more mature than coverage of the Shoaib Malik-Sania Mirza wedding. "But maybe because the media didn't have time to overdo it because everything happened at such short notice. If they had more time to prepare graphics and write copy, the coverage could've been far more sensationalised than it was and all major networks would've sent their masala reporters to Bani Gala," she said.
She also pointed out that the wedding was a much-needed breath of fresh air in the gloomy news landscape of the country. "I'm sure there were terrible things happening when the last royal wedding took place. But the whole world took a break, and I think that Pakistanis also needed a break from the death and destruction that has been our lot over the last year or so," she said.
Social media
The news had been doing the rounds on social media for quite some time now. Danish Khan, a prominent member of the PTI's social media team, told Dawn how they had to remain aloof when a lot of people were discussing the story online. "We didn't want to touch this subject until Mr Khan made his decision. But whenever we did react, it was always in reaction to propaganda by political rivals," he said.
According to Danish, most of the pages critical of Reham Khan that had cropped up in recent weeks were being run by "the PML-N media machinery". "All we wanted to do was to be emotionally intelligent. When the detractors started spreading all sorts of rumours, we came out with the #KaptaanKiShaadi hashtag. None of [the team] were sure, but everyone was tweeting that if it is happening, it is a good thing," he said.
Media critic Fasi Zaka told Dawn: "I think the media has covered it relatively responsibly – the rumours have been around for much longer. The slander, misogyny and outright conspiracy theory around Imran's first marriage was the remit of the media, this time the social media is doing it," he said.
Being a global celebrity, Mr Khan also has a massive fan following, especially among women. A good number of them also took to venting on Twitter and Facebook when they heard the news of his second marriage. Accounts such as @IAminaKhan and @ZoyaAliPTI were livid at the news and some even took to criticising Ms Khan for stealing the PTI leader from them.
"Obviously some of the girls are heartbroken, but you know how it is. Everyone is possessive when it comes to Khan Sahib, it's all in good fun," Danish said when asked about such emotional outbursts on social media.
Published in Dawn, January 9th, 2015
On a mobile phone? Get the Dawn Mobile App: Apple Store | Google Play