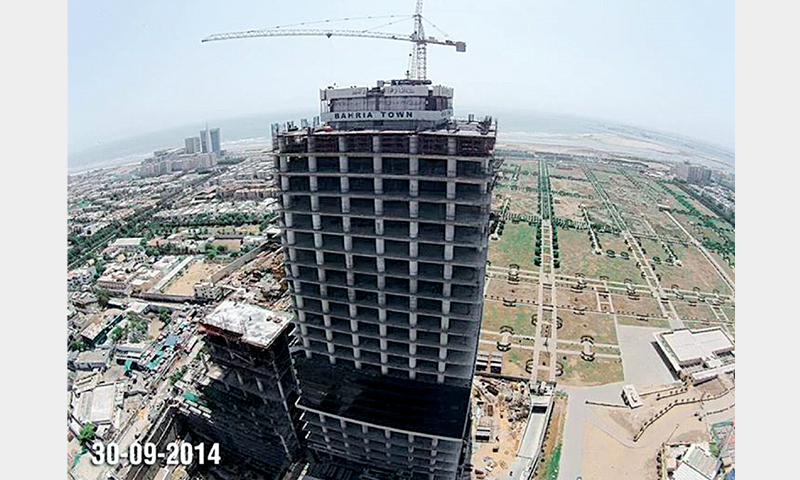 The construction of apartments — mainly of ground plus 12-story — has recently picked up pace in Karachi to fill the demand and supply gap.
However, for many in the low and middle income groups facing cash constraints, these flats are unaffordable, particularly owing to the continuous rise in their prices. Even the rate of old flats is increasing, at par with the increase in price of new units.
Gulistan-e-Johar was once dubbed the 'Jumma Bazaar' of apartments, but with the passage of time, areas like North Nazimabad, F.B. Area, North Karachi, Scheme 33, Gulshan-e-Iqbal, Sharah-e-Faisal, Malir, Landhi, Clifton, Khalid Bin Waleed Road etc have been witnessing a boom in the construction of new apartment complexes.
Lured by good locations in well-developed areas with water, security and car parking facilities, cash-rich buyers are purchasing new flats even on upwards of the sixth floor, which are available for comparatively lower prices against those on the ground to fourth floors.
As the city faces a dearth of land in existing housing schemes, people are still satisfied with owning an expensive apartment.
However, ill-planned and often questionable permission for tall buildings pose a huge problem for people whose houses are situated just behind or adjacent to them. These projects expose other residents' privacy, raise security concerns, damage sewerage systems and lead to lingering fears about their collapse in case of a serious earthquake.
To cope with potential demand, builders frequently unveil new projects. They particularly do so during Eid-ul-Fitr and Eid-ul-Azha in anticipation of quick bookings, as many people living abroad arrive back home in these times and often choose the occasion to invest in real estate.
---
Potential buyers feel that the Sindh Building Control Authority should check the previous projects of a builder before granting it NOC for new ventures to ensure that good quality construction materials are being used
---
Former Senior Vice Chairman of the Association of Builders and Developers (Abad) Salim Kassam Patel said home remittances also play a pivotal role in investment in construction activities. Overseas Pakistanis sent home $15.8bn in 2013-14, against $14bn in 2012-13. During July-October, they had sent $6.1bn.
Salim said Karachi needs 100,000-125,000 houses every year but the supply hovers around 50,000-60,000. This is really slow, as the population growth is said to be around 5-6pc every year.
He said buyers have become quite choosy, as they prefer to book apartments in projects of reputable builders with good track records, regardless of the high prices.
Meanwhile, according to builders, the Sindh Building Control Authority (SBCA) has issued no objection certificates to 87 apartment projects in Karachi so far this year, against 71 in 2013 and 78 in 2012.
It could not be determined as to how many of the projects have been completed or are in the process of completion, but many builders like to complete the projects on time, owing to the rising cost of construction.
However, the SBCA has taken notice of the fact that many Abad members deviate from the approved draft for advertisements that spell out details of the projects.
In a letter to Abad, the SCBA said NOCs for sale and advertisement for public sale projects are issued to the builders and developers, along with directives to follow the approved draft for advertisement and incorporate necessary details of the project, including the project's summary, plot number, number of units, price of unit, number of floors, builder's name and date of completion etc.
The SBCA observed that most of the advertisements do not contain the required information and mislead the general public.
The Authority has warned that it will take action against individual builders and developers, including withdrawing NOC and cancellation of the project, if its directives are not followed.
Many potential buyers feel that the SCBA should check the previous projects of a builder before granting it NOC for new projects to ensure that good quality construction materials are being used to prevent a host of problems from arising, particularly that of seepage.
They said builders often use substandard materials but charge rates for high quality products/apartments, which is unjustified. The Authority should reject a builder's new projects if the design and construction of its previous ones are found to be substandard.
Besides, Abad has observed that a number of projects of its members have been stopped or delayed due to either adverse law and order situation or lack of housing finance, and has requested its members to provide data of such projects.
Commenting about flats in Gulistan-e-Johar, the owner of Johar Assciates, Abdul Wahab, said the area has hardly few sites left for apartment complexes. And prices have gone up considerably during a two-year period.
He said a three-bedroom, well maintained flat of 1,100-1,400 sq ft covered area in the Johar's Blocks 13, 14, 15 and 16 are going for Rs5-7m, up from over Rs4m. A two bedroom flat of 800-950 sq ft area can be purchased for Rs3-4.5m, against Rs1-1.5m.
In Gulshan-e-Iqbal, an estate agent said a buyer needs over Rs6.5m for an ordinary three bedroom flat of 1,300-1,400 sq ft area, up from Rs3.5-4m four years back. And apartments located on some well known main roads are going for over Rs10m, against Rs5.5-6m two years back.
Meanwhile, talking about the Clifton area, Khan Zubair Shaheen of Pak Estate said a three bedroom flat of 1,500-3,000 sq ft area ranges between Rs10-30m, depending on the location, builders' credibility and age of the project etc. Such flats were previously available for Rs5-15m. He said 90pc apartments in Clifton consist of three bedrooms.
Saeed Zulfiqar of Mohammadi Estate in DHA Phase V said a three bedroom apartment of 1,000 sq ft is priced around Rs7-9m, up from over Rs4.5m. He said a studio-type apartment of 450 sq ft with two bedrooms, drawing room and lounge is going for over Rs3.5m, against Rs1.5m two years back.
Published in Dawn, Economic & Business, December 8th , 2014
Now you can follow Dawn Business on Twitter, LinkedIn, Instagram and Facebook for insights on business, finance and tech from Pakistan and across the world.