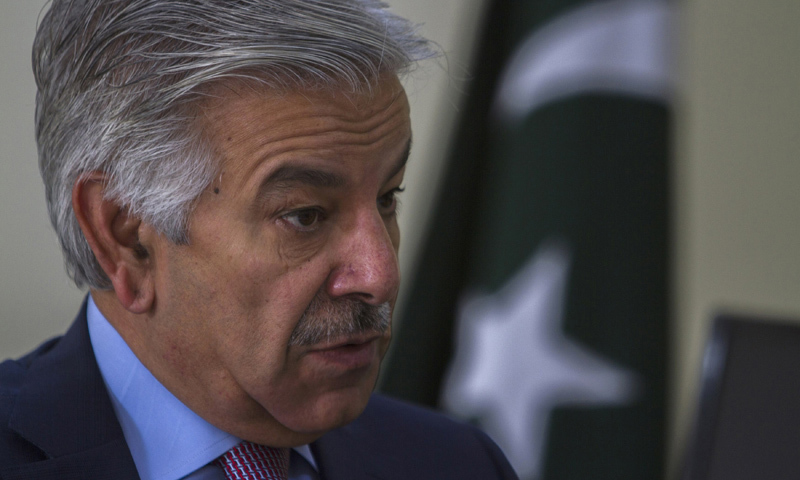 ISLAMABAD: The uneasy truth of Pakistan's less-than-trusting relationship with the US was acknowledged by a key member of the federal cabinet on Tuesday when Defence Minister Khawaja Asif drew a large question mark on the reliability of Washington as a friend of Pakistan.
"The Americans have been our friends for a long time – since the 60s and the 70s – but their reliability is relative," he told a packed audience at the Institute of Strategic Studies.
He did not stop there. "American foreign policy has been disastrous for this region," he said, referring to South Asia and the Middle East, adding that, "for all times to come, the geography of this region has been changed".
Also read: Militants not dangerous to Pakistan should not be targeted: Sartaj
Mr Asif warned that Pakistan had to be very careful. "We are still paying the price for our intervention in Afghanistan. The disintegration of this region on sectarian and ethnic lines is in process."
He said that US 'disappointment' with Pakistan's contribution to the 'war on terror' was unjustified. "We've had a historic relationship with the US since independence. It has had its highs and lows," he said.
"Recently, the COAS had an extensive visit to the US. It was a good visit and we need to pursue this relationship and build the trust that is not there 100 per cent, at least," he said, admitting that Islamabad did not necessarily see eye-to-eye with Washington in the context of the continuing war on terrorism.
He also called the recent US Defence Department statement about the objectives of the military operation in the tribal areas "very discomforting".
Defence minister blames US foreign policy for problems in Middle East and South Asia
"This shows that despite our sacrifices, the Americans still do not trust us completely. That is sad, but it should be clear that Pakistan's national objectives are paramount for us," he said.
"The Islamic State (IS) was propped up to fight against the regime in Syria and now the world looks on in horror. We may feel the repercussions [of the US foreign policy failure] in the region for many years," Mr Asif said.
He said that US Defence Secretary Chuck Hagel -- who stepped down just after two years in office – was the latest casualty of the failure of US foreign policy in the region.
During his remarks, Mr Asif took pains to note that he was airing his own opinion and that what he was saying did not necessarily reflect government policy. But the way he framed his points, it seemed as if he was building a case for an alliance with another global power, one that was nothing like the untrusting US.
Regional powers
After the world became unipolar, he said, global instability had only increased. Advocating multi-polarity as ideal for a global balance of power, he said that Russia and China were the two largest powers in the region. "We should seek solutions to regional problems from our own shores, not from across the pond," he said.
He called Russia "an emerging superpower", one that was economically well-established despite sanctions against it. "Being in the same region, Pakistan must have a sound relationship with Russia," he said.
He said that Pakistan had recently concluded a very important agreement with Russia; one which would allow it to purchase armaments from the Russian Federation. The arms that Pakistan was getting from Russia were going to be used primarily for anti-terrorism operations, Mr Asif said.
"Pakistan must pursue its own national security goals; we don't want to antagonise our neighbours, countries of the region and greater powers," he said.
The defence minister began his history lesson with Afghanistan, saying, "[Pakistan's] intervention or interference in Afghanistan in the 80s was more of a proxy war and we were the proxy". Pakistan as a nation, he said, still continued to pay the price for that.
He said, "Prime Minister Nawaz Sharif, right at the outset, pledged that there will be no interference in Afghan affairs from our side. In the last two to three weeks, we've seen COAS go to Afghanistan and the Afghan president visiting Pakistan. The PM told Ashraf Ghani that we must start anew, turn a new page. The Afghan president responded: 'No, we have to start a new book'."
"Without peace in Afghanistan, there can be no peace; peace will be very elusive in Pakistan," he said, adding that the situation in Afghanistan was also a matter of national security for Pakistan. "We cannot live in isolation or forget what is happening next door," he said.
India
Talking about India, he said, "[Pakistan's] peace overtures have been misconstrued as weakness by our eastern neighbour, but I believe that our problems can be solved through peace and negotiations."
"When PM Nawaz Sharif came to power, he pledged to work with India. It was alright in the beginning… but since the last few months, things have deteriorated on the border," he said.
Referring to the sharp Indian reaction to a recent meeting between Pakistani diplomats and Kashmiri leaders in New Delhi, Mr Asif said, "The reaction has been rather overstated and the way India reacted to this meeting was a setback to peace efforts." Following the meetings, India cancelled secretary-level talks with Pakistan, which the minister said was "harmful for both countries".
"We still wish and strive for peace with India and will resume the process of building a lasting friendship between the two countries," he said, adding that he hoped that the Saarc summit would yield "something less bitter".
Published in Dawn, November 26th, 2014