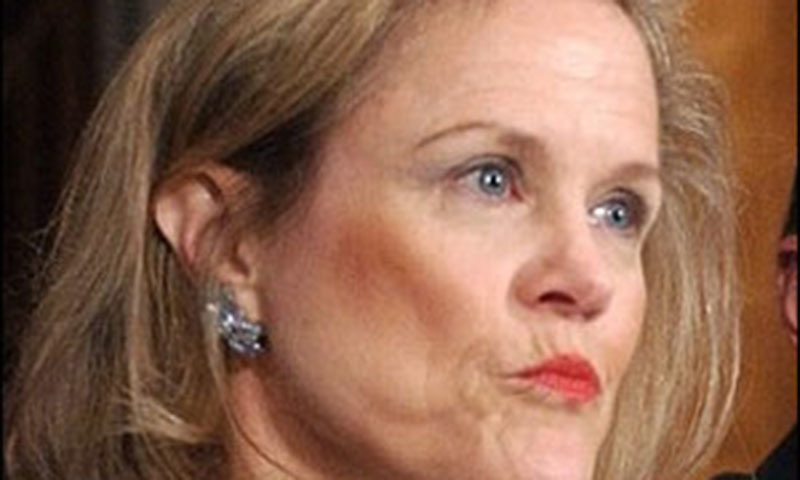 ONE evening in early October, Robin Raphel was the guest of honour at an elegant dinner hosted by a prominent Islamabad couple. In attendance were members of the capital's elite: senior government officials, parliamentarians, development sector representatives, figures from the foreign policy and security establishment, diplomats, and a smattering of journalists. Most of the guests had known Ms Raphel for years, some for decades, and the atmosphere was cordial and relaxed.
So well known and popular in Pakistani circles is Ms Raphel, a retired senior US diplomat who was an adviser on Pakistan to the AfPak special representative until earlier this month, that the evening's host later remarked, "People complain when they find out she was in town and didn't get a chance to meet her." It was, then, with some shock that news of Ms Raphel being the subject of an FBI "counterintelligence investigation", according to The Washington Post, rippled through Islamabad policy circles on Friday.
Friends of Ms Raphel rallied to defend her reputation. "She practised Diplomacy 101. Developing an empathy for the country [Pakistan] while remaining loyal to hers. Making friends and relationships that endured. A true professional," said Maleeha Lodhi, who has known Ms Raphel for over two decades.
"She's what you would call a Pakistan perennial. She had insights into Pakistan in ways others didn't," according to Sherry Rehman, who has also known Ms Raphel for many years.
"She was the go-to person behind the scenes when it came to troubleshooting in the Pak-US relationship," said Daniyal Aziz, a PML-N MNA and long-time friend of Ms Raphel. "You can get an idea of how effective she is as a voice on Pakistan when you hear what the Indians say about her," Mr Aziz continued.
Yet, for all the access and goodwill Ms Raphel has cultivated in her decades-long relationship with Pakistan, her impact on Pakistan policy debates in the US is more ambiguous. In her last job, as senior adviser to the US Special Representative on Afghanistan and Pakistan, Ms Raphel helped oversee non-military aid to Pakistan, effectively the five-year, $7.5bn Kerry-Lugar aid package that will expire next year.
Speaking on the condition of anonymity because he is not authorised to speak publicly, a senior official at a major development organisation characterised Ms Raphel's tenure thus:
"She was not very effective in the US State Department in terms of getting things done. But she was very effective in communicating messages, especially that US aid should be directed towards big projects instead of sprinkling it across smaller ones."
The senior development official specifically cited the Diamer-Bhasha dam, opposed by India and only reluctantly endorsed by the IFIs, and CASA-1000, the energy corridor spanning the Kyrgyz Republic, Tajikistan, Afghanistan and Pakistan, as projects that Ms Raphel had championed — and achieved some success in nudging forward.
But Ms Raphel's engagement with Pakistan extended into spheres well outside non-military aid and it was here that her work, as well as results, is even murkier. With high-level access to Pakistani security establishment circles, Ms Raphel is believed to have acted — or tried to position herself — on occasions as a conduit between the US administration and the Pakistani military and as a conciliatory voice on overall US policy towards Pakistan.
Critics though downplayed Ms Raphel's role outside her official job description. "She was not at all in the centre of policy things," remarked a senior diplomat who has worked with Ms Raphel and spoke on the condition of anonymity.
Another diplomat, also speaking on the condition of anonymity, offered this assessment: "She was never a big policy person and had perhaps a naive streak. You can think of her role as the chief reassurance officer: she was seen in DC as the person representing an old pattern of engagement [between the US and Pakistan]. But there are fewer takers now, especially in the White House."
That view of a sympathetic-to-Pakistan Raphel is echoed in Washington DC. Marvin Weinbaum, a Pakistan expert at the Middle East Institute who has known Ms Raphel for four decades, said: "Her policy relevance may have declined but not her reputation. Publicly, Robin is known to regularly express views that could be described as sensitive of Pakistan's interests."
For now though most of Ms Raphel's supporters and friends are hoping the FBI investigation will clear her name. "At times, US investigators can be overly zealous when it comes to possible security-issues breaches. Until formal charges are filed, if they are, and we've heard her side, I and others will be very careful not to pass judgement," Mr Weinbaum said.
Published in Dawn, November 8th , 2014