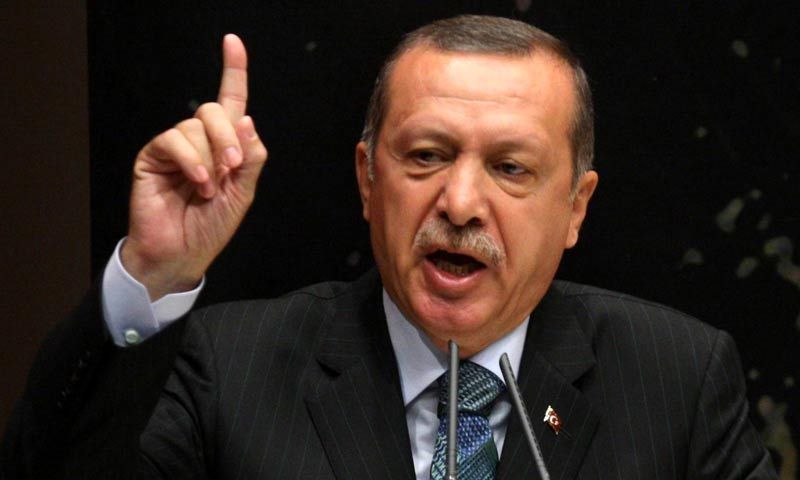 ISTANBUL: Turkish Prime Minister Recep Tayyip Erdogan on Thursday launched his most bitter attack yet against Israel over its air campaign in the Gaza Strip, accusing the Jewish State of seeking a "systematic genocide" of the Palestinians.
Erdogan, a pious Muslim who sees himself as a champion of the Palestinian cause, has in the last days intensified his rhetoric against Israel as he presents himself as a leader of the entire Islamic world ahead of August 10 elections in Turkey.
But in his latest attack on Israel, he went even further in comments that could endanger attempts for a normalisation in the troubled ties between the Jewish State and Turkey.
"This is not the first time we have been confronted by such situations, "Erdogan told a meeting of Islamic scholars in Istanbul to mark the holy Muslim fasting month of Ramadan.
"Since (the creation of the state of Israel) in 1948 we have been witnessing this attempt at systematic genocide every day and every month.
"But above all we are witnessing this attempt at systematic genocide every Ramadan. "
The violence has so far claimed the lives of 231 people in Gaza and one person in Israel, with Israel bombarding the Gaza Strip and Palestinian militant group Hamas launching rockets at Israel.
"The Western world remains silent, so does the Islamic world. Because those who lost their lives are Palestinian, you can't hear their voices," Erdogan added.
Erdogan renewed his vehement criticism of the United Nations, which he accused of having no use as well as persuing a hidden agenda.
"What is the UN doing? Why has it been founded? For world peace? Does it contribute to the world peace? No. They are serving whatever their secret agenda is. "
Erdogan accused other Islamic countries of being indifferent to the fate of the Palestinians, a possible reference to Sunni Gulf Arab states with whom Ankara has prickly ties.
"I am asking the Islamic world? Isn't your heart shattered? Forget about the West, If your family does not embrace you, would others do that? "
Nato member Turkey was traditionally Israel's key ally in the Islamic world but ties have nose-dived since Erdogan's Islamic-rooted party came to power over a decade ago.
Ties hit a low after Israeli marines stormed a Gaza-bound Turkish ship in 2010 while in international waters. Ten Turks died as a result of the attack.
Encouraged by the United States, there had been progress toward a normalisation of ties between the former allies but Erdogan has said there can be no normalisation so long as the "massacres" continue.