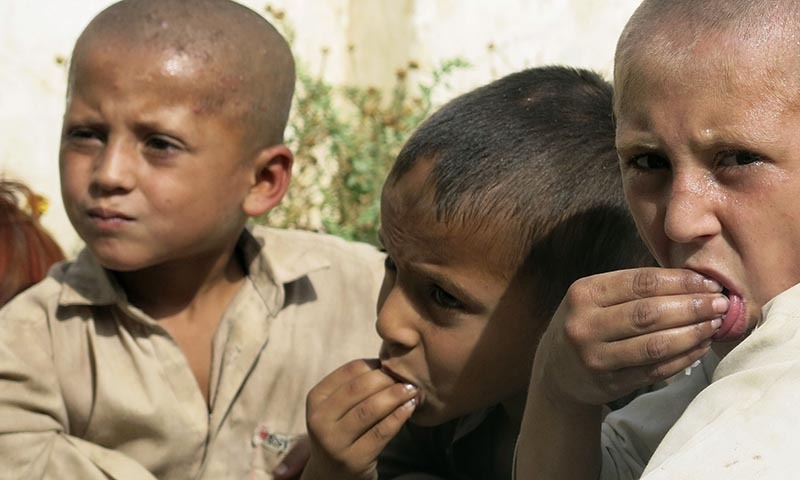 BAKKA KHEL/FR BANNU: In her local Waziri dialect of Pashto, seven-year-old Nadia from the Khushali Tori Khel village describes the lethal hiss of US drones.
"I was terrified by the bangana [buzzing] sound when it flew over our heads," she says, as she shyly weaves a finger through her soiled golden curls. "My friends would run away to their houses. The bangana is really terrifying, but the bomb explosions are worse."
Unlike the scores of analysts who have questioned, evaluated and thoroughly explored the implications of unmanned predator drones or a wide-scale army operation in the militant-infested North Waziristan Agency, little Nadia has lived the nightmare. She can detail the fear that grips the hearts of tribal children every time an artillery or mortar shell is fired by militants or security forces, or when a deafening explosion is heard nearby.
Nadia is one of the thousands trickling into the Bakka Khel area of Bannu in search of safer ground, as the military evacuates the tribal areas in order to comb the war-torn agency for militants.
After the curfew following operation Zarb-i-Azb was lifted, Nadia arrived here in a pick-up truck along with her family.
---
Also read: IDPs protest food shortage in Bannu
---
Although reports are emerging of scarce rations and the unwillingness of Fata refugees to live in camps due to conservative tribal customs, the children fleeing the war zone are less concerned with the challenge of finding shelter and grimness of day-to-day survival; for the young residents of the tribal region, coming to Bannu means there will be no more thundering sounds of war.
Noman, a lanky 10-year-old has also reached Bannu from Esori village.
Drained from the seven-hour journey conducted on foot, he says most villagers fled with nothing but the clothes on their backs. His family was fortunate enough to pack a few belongings as well as livestock.
Despite the exhaustion from the drawn out trek and unpleasantness of leaving home – possibly never to see it again – Noman says he is relieved.
"I am happy I won't see drones or jet fighters dropping bombs on our villages. I feel secure now that I am safe out here," Noman remarked.
His father Qudratullah says his other children are also terrified when drones and jets hover in the area at night, or when the jet fighters pass by. "They are now allergic to these sounds."
A girl fleeing North Waziristan, reacts while taking refuge with her family in a school building in Bannu, located in Pakistan's Khyber-Pakhtunkhwa province June 17, 2014. — Photo by Reuters
Director General of the Fata Disaster Management Authority (FDMA) Arshad Khan says since the curfew was relaxed on its first day on June 18, over 450,000 people have fled the war-ravaged agency to live with host families in Bannu, Dera Ismail Khan, Lakki Marwat and cities in Punjab. Some of them have also moved to the government schools and buildings in Bannu.
The number of IDPs is expected to rise.
Shaheena, aged nine, says her family is lucky to have found shelter in a government school building in Maryan. "The jet sounds are terrifying," she recalls. "My schoolmates and I are always frightened to hear them."
Researchers and social scientists believe that Fata children in particular undergo psychological trauma as they are forced into the conflict – often as suicide bombers or child soldiers and also through displacement.
Many of these young boys and girls are deprived of education because schools have closed due to the threat of forced militant occupation, while some end up as IDPs in camps for years – as in the cases of Bajaur, Mohmand, and Khyber Agency – and consequently miss school for years.
Peshawar-based Dr Mian Iftikhar Hussain, a psychiatrist who treats patients with Post-Traumatic Stress Disorder (PTSD), is of the view that young people are badly affected by the conflict. Most of his patients are from the tribal areas such as South and North Waziristan Agencies.
Trauma for the people in this region has not been without precedent. The 2005 earthquake and the conflicts in Swat and Fata have meant that children and women have been the most affected in terms of mental and psycho-social health. Many of those unaccompanied by men have been subjected to abuse.
Jehanzib Khan, the regional head of the Society for Protection of the Rights of the Child in Khyber Pakhtunkhawa, agrees that children of North Waziristan are more vulnerable to psychological stress.
"The horror of war and bombs have badly shattered their minds, so these children need psycho-social counseling to divert their attention from the war and bombs."
Shelter, food, and nutrition are basic requirements, but they are in dire need of mental counseling, he adds.
Khan says that more than 45 per cent of the population affected during the previous conflicts in Fata and KP were children, many of whom have contracted mental illnesses as efforts made for their rehabilitation are negligible.
"The government should learn from the past and provide child-friendly spaces, which are the need of the hour for these affected children," says Khan.