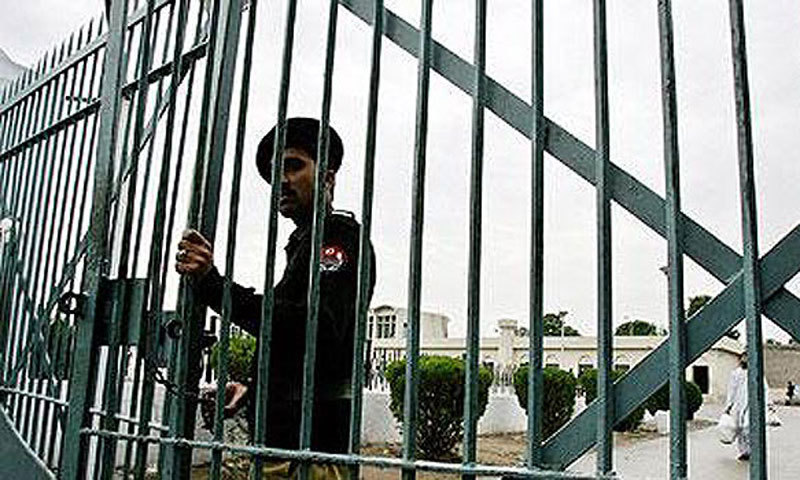 RIGHT in the hub of Lahore's bustling Liberty Market, where shops of loose fabric, ethnic footwear, traditional jewellery and food surround a massive area that can accommodate thousands of visitors, now sits the Police Facilitation Centre, Gulberg. Functional for approximately four months, it is similar to customer service centres that cater to the corporate world.
On a sweltering Wednesday afternoon, 20-year-old engineer Sarmad Usman, files secured in one hand, stands at a counter with a silver plaque that proclaims "males only". Politely but firmly, he tells the officer behind the counter, a glass window separating them, about the inconvenience he is facing.
After a brief, cordial exchange, Usman walks up to a nearby stand where he gathers up some colour-coded forms categorised by the type of service required. Curious about the service quality here, I approach him. He says he requires a character certificate for immigration to Canada. He has just come back from the crowded civil court on Mall Road, where an official had directed him to this centre to accelerate the processing of his papers.
"I came here and they told me I had to get new forms," he said. "But thank goodness, they're already available here and I can just fill them out without wasting any more time."
The centre offers 12 services including vehicle verification, servant verification, legal guidance, character certification, and arranging police reports, international driving permits, learners' and duplicate driving licences and untraced vehicular reporting. While the copy of an FIR is available, the FIR itself still has to be registered at regular police stations.
Usman has taken time off from work for this chore but points out that had he known the centre would be open till 9pm, he would simply have come after work. He says that earlier, when he visited the local courts for such tasks, it would be a time-consuming and exasperating procedure as those courts cater to criminal reports as well. "The good thing is that there is no fee now and if an officer asks for money, you can register a complaint," he explains, expressing relief that he won't have to make another visit. "My certificate will be delivered to me at home."
"The purpose of these centres is to minimise direct interaction between the police and people," says Security SP Salman Ali Khan. "People who have no criminal issues to report will not have to make contact at the station."
He says that now — in a pleasant environment, with well-trained staff, in a centrally located place convenient for many to reach — many services are being provided. "Previously if the national identity card was stolen or misplaced, you would go to the normal police station," he says as an example. "Now you can just go to a facilitation centre instead."
Khan says there are plans to build about six more centres in the city, in main areas such as Saddar Cantt, but these will materialise once they have enough resources. Similar centres have been set up in Faisalabad, where they provide the same services. There, they are called 'e-police stations'.
At the Gulberg Police Facilitation Centre, security cameras monitor staff/client interaction, legal guidance is provided without cost and the fee is Rs100, which includes courier charges as papers are delivered to the applicants' homes.
With over a hundred cases on traffic-generated violations and other issues that come to the centre each day, a staff team of about 25 officers from the regular police force is deployed to cater to visitors and complainants. There are separate counters for men, women and senior citizens, and a separate desk for a courier service and the post office. A bright orange water cooler sits on one side which the inspector points out is only temporary, as arrangements for an electric water cooler have been made already.
The expansive outdoor waiting area is well-covered to protect visitors from the sun and accommodates about 30 people. A small space inside the building can seat a few people too where people await their turn to meet the officers in the next room. There is no line-breaking, shoving, jostling or argument typical of a government office.
It could be that the current efficiency is temporary and will diminish with time as more people become aware of the location and services. But for now, it is an encouraging initiative that genuinely facilitates complainants, who seem to be responding well.
Published in Dawn, May 23rd, 2014