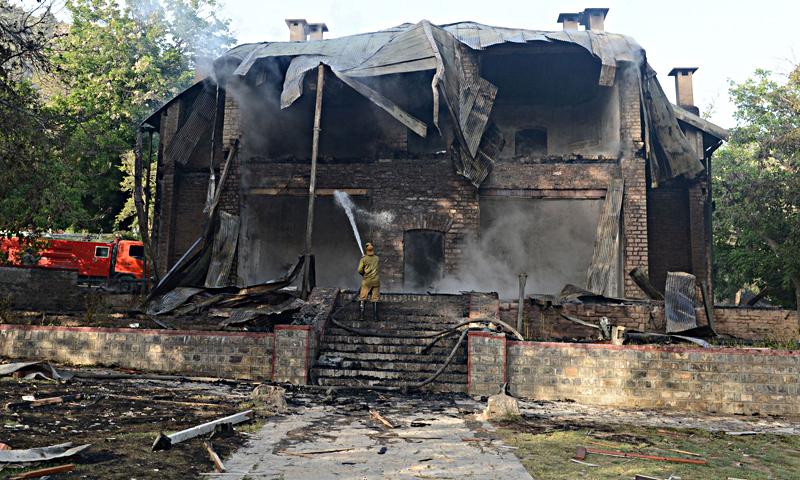 QUETTA: The Balochistan government has planned to inaugurate Ziarat Residency, the rest house used by Quaid-e-Azam Muhammad Ali Jinnah during his final days, on August 14 this year.
Currently work is going on in full-swing on the reconstruction and restoration of Ziarat Residency which is spread over 8000 square feet.
Established by English Colonial rulers in 1861, the residency served as a resting place for the founding father of the nation. Located in the mountainous Ziarat valley, the residency is surrounded by thousands years old ancient juniper trees.
The treasured national monument located in the sleepy town of Ziarat was burnt to ashes when militants from the outlawed Baloch Liberation Army (BLA) carried out bomb attacks on June 15, 2013. So intense was the attack that the flames took days to be extinguished.
More than 50 labourers, engineers and other technical staff have been making hectic efforts for the last three months to ensure restoration and reconstruction of Quaid's residency to its original shape.
"The inauguration would be done by president or prime minister on the Independence Day," Ali Zaheer Hazara, the Additional Chief Secretary (Development) Balochistan told reporters on Tuesday.
It is worth noting that the government of Balochistan has turned down the support of the federal government and international donor agencies to restore the national monument. Instead, it made the most of its own resources and allocated Rs 140 million for the purpose.
"Today, the wooden roofing of the residency was completed," Abdul Jabbar Kasi, an engineer from Communication and Works Department said.
"We made drafts and blueprints of the damaged parts of residency on butter paper and then we started working on the structure," Kasi explained.
The wood of the residency was burnt during the attack while the stone structure was severely damaged. Further damage occurred when the fire fighters' tried to control the raging fire.
"Only the iron survived in the attack. All woodwork was burned and stones damaged," Kasi said.
To restore the house to its former glory, additional stone was brought in from Lahore and well-known experts were hired to rehabilitate the structure as close to the original as possible.
"Three types of wood is being used in the construction of residency," Kasi informed, adding: "Almost 90 per cent of the residency was destroyed in the attack that lasted for hours."
Security was beefed up in and around the residency in the aftermath of the June 2013 attack. More than 50 personnel of the Frontier Corps, police and Levies were deployed around the residency to avert any untoward incident. Similarly, pickets were established at all exit and entry points of Ziarat to ensure peace in the picturesque town located in north of Quetta.