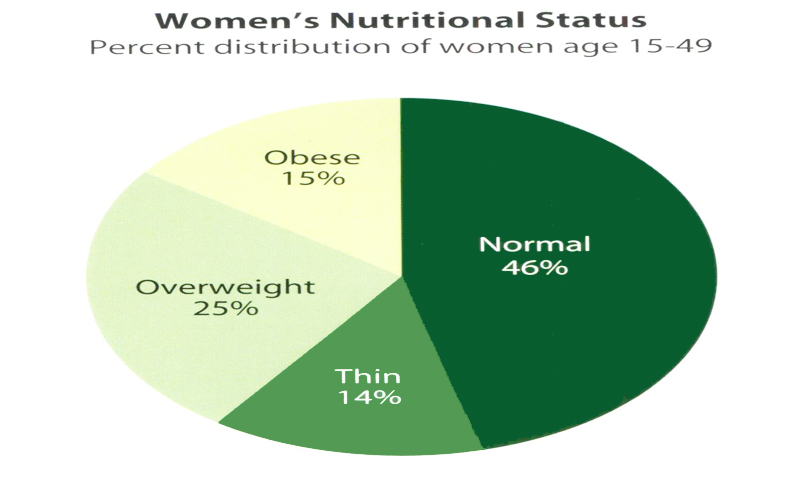 Pakistan is a nation of stark contrasts. This was more evident from the key findings of the Pakistan Demographic Health Survey (PDHS) 2012-2013 which was launched earlier on Wednesday at a seminar in Karachi.
With the country's population expected to surpass 200 million by 2020, Pakistan's health indicators project a discouraging future for neonatal, infant and child, as well as maternal mortality. Fertility rates have shown improvement over the last two decades but the progress over the last decade has been slow.
Despite efforts being made to increase the use of contraceptives, this area has not exhibited progress. However, with the fertility rate declining one is left to deduce the influence of other factors: an increase of lactating mothers for an extended period, late unions or plans for couple to conceive and increase in abortions.
For the first time data on domestic violence and empowerment of women is included in the survey. While the statistics may not be very encouraging the much needed attention on the issue was appreciated.
Some of the key findings of the Pakistan Demographic and Health Survey 2012-2013 are listed below:
Characteristics of Households
An average Pakistani household consists of 6.8 people with a large portion, 39 per cent, under the age of 15. Meanwhile, 94 per cent of households have electricity and 93 per cent have access to an "improved source of drinking water."
Ownership of goods
A whopping 87 per cent of household own a mobile phone while 60 per cent own a television and about 11 per cent a radio. Computers are found in 13 per cent households while just seven per cent have access to internet at home.
Education
Compared to 21 per cent men, about 16 per cent women have attended primary school. One in five women and one in three men attend secondary or higher education. About 57 per cent of 'ever-married Pakistani women' and 29 per cent 'ever-married Pakistani men' have no education.
Fertility
Compared to the fertility of rural women (4.2 children per woman) urban women are in better standing with an average of 3.2 children per woman.
Teenage fertility
Despite the legal age for marriage being 16 in the country eight per cent of adolescent women (between the age of 15 and 19 years) are already mothers or pregnant with their first child.
Teenage fertility has halved, however, from 1990-1.
About 12 per cent teenagers from low-income households are 'more likely' to have begun child bearing compared to three per cent from high-income families.
Young motherhood is highest in Khyber Pakhtunkhwa at 10 per cent.
(See above picture: Total Fertility by Region).
Age of first marriage
Thirty-five per cent of women between 25 and 49 years of age were married by 18 years and 54 per cent were married by 22 years. The median age of men at 'first marriage' is 24.7 years.
Polygyny
Down from seven per cent in 2006/7, four per cent women compared to three per cent men are in polygynous unions.
Consanguinity
Half of all marriages occur between first cousins.
Urban areas – 38 per cent Rural areas – 54 per cent
Family Planning
Encouraging findings emerged from in this area. About 99 per cent 'ever married women' and 95 per cent 'ever married men' know at least one method of modern family planning while 26 per cent use them.
(See above picture: Modern methods in Family Planning).
Experts say the resistance to use of contraceptive is no longer the impediment. In fact access to a couple's preferred method is the main cause behind the sluggish improvement in this area.
Commonly known methods among women:
Injectables – 95 per cent

Pill – 95 per cent

Female sterilisation - 91 per cent
(See above picture: Trends in Contraceptive Use).
Infant and Child Mortality
One in every 14 children in Pakistan dies before their first birthday while one in every 11 does not survive till five years of age.
The under five mortality rate is twice as high (112 deaths per 1,000 live births) for children born to mothers with no education than those born to mothers with secondary education (57 deaths per 1,000 live births). The mortality rate decreased three fold to mothers with higher education (36 deaths per 1,000 live births).
Child Health
Vaccination Coverage
Around 54 per cent of children between 12 to 23 months have received all recommended vaccinations.
Coverage in urban areas stands at 66 per cent, while it is 48 per cent in rural areas. Coverage showed significant increase among mothers who had a higher level of education.
(See above picture: Vaccination Coverage by Region).
Nutritional Status of Women and Children
Women, between the age of 15 and 49, classified as thin (BMI<18.5) were 14 per cent while 40 per cent are over weight or obese (BMI< 25).
(See above picture: Women's Nutritional Status).
HIV/Aids Knowledge, Attitudes and Behaviour
Knowledge
The report reads: Only 42 per cent of ever married women and 69 per cent of ever married men have ever heard of Aids, knowledge of HIV prevention is much lower.
As expected knowledge of prevention increases with education in both men and women.
Attitudes
While less than half of the men and women report that they would buy fresh vegetable from a shopkeeper living with HIV, more than 90 per cent would be willing to take care of a family member infected with AIDS in their home.
Injecting drug users are the biggest source of the virus' spread.
While analysing data from Karachi, Saddar Town was found to have the largest reservoir of people infected with HIV and AIDS.
(This comparison is only for within Karachi and not on a national level).
Women's Empowerment
Between the age of 15 and 49, just about 29 per cent of women interviewed for PDHS are currently employed compared to 98 per cent men in the same age bracket.
Control over husband's earnings.
Decision making solely done by men:
Balochistan – 71 per cent
Khyber Pakhtunkhwa – 68 per cent
Sindh – 35 per cent
Punjab – 25 per cent
Men who say their wives are the prime decision makers in spending:
Highest is in Sindh at 16 per cent.
Domestic Violence
One third of ever-married women have experienced physical violence since 15 years of age. One in five women experienced physical violence in the last 12 months.
Almost 40 per cent of women have been subjected to spousal abuse at some point in their life. The most commonly reported is emotional violence by around 32 per cent of women.
More than half the women who have suffered violence have never sought help.
(See above picture: Spousal Violence by Marital Status).
Attitudes towards wife beating
Close to 43 per cent women and one-third of men agree that a husband is 'justified in beating his wife if she argues with him, neglects the children, refuses to have sex with him, goes out without telling him, neglects the in-laws or burns the food.
A further breakdown is listed below:
Argues with husband – 34 per cent
Over care of children 31 per cent
Refusal to have sexual intercourse – 31 per cent
Going out without permission – 30 per cent
(See above picture: Experience of Physical Violence).