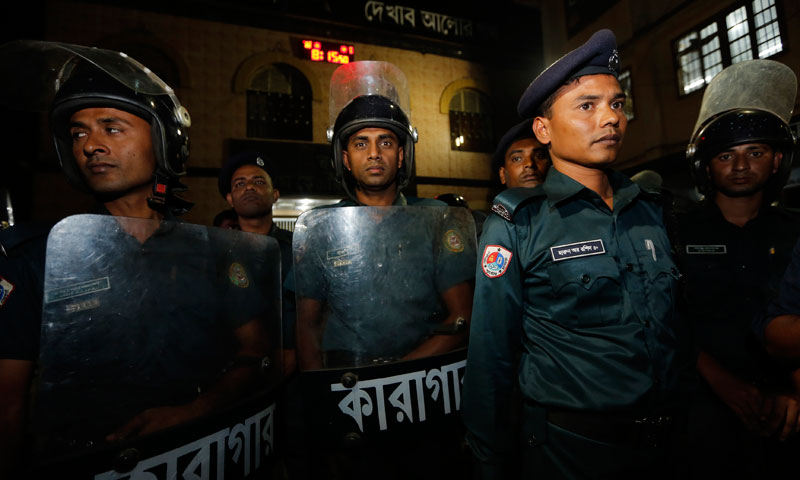 DHAKA: Bangladesh was rocked by a new wave of deadly violence Friday as Jamaat supporters went on a rampage to vent their fury at the execution of one of their leaders for war crimes.
Abdul Quader Molla became the first person to be hanged for his role in the country's bloody 1971 war of independence when he was sent to the gallows at a prison in the capital Dhaka late Thursday.
The hanging took place at 10.01 pm (1601 GMT), after the Supreme Court had earlier dismissed an appeal for a final review of the death sentence handed down to Molla who was a senior figure in the Jamaat-e-Islami party.
Fears that the execution could spark further unrest in a country that has been plagued by political violence for much of the year were soon realised as reports emerged of street battles in towns and cities.
Two activists from the ruling Awami League were hacked to death in the southern town of Kalaroa early Friday while Jamaat activists also firebombed train stations, set fire to pro-government businesses and blockaded roads, according to police and other officials.
While there were no immediate reports of violence in Dhaka, large numbers of police could be seen on the streets in anticipation of unrest — particularly after Friday prayers.
In Washington, a State Department representative said Bangladesh was passing through a "very sensitive moment", urging all parties to resolve their differences peacefully.
"We've long urged the authorities to assure that trials are free, transparent and in accord with international standards, but we've also urged all parties and their supporters to express their views peacefully and again, to refrain from violence," said deputy spokeswoman Marie Harf.
Authorities went ahead with the execution despite widespread international appeals against the move, including from the United Nations' Secretary General Ban Ki-moon.
The government, which has also rebuffed international pressure to delay elections scheduled for next month, was unrepentant about the decision to carry out the execution of 65-year-old Molla.
"It's an historic moment. Finally after four decades, the victims of the genocides of 1971 liberation war have got some justice," deputy law minister Quamrul Islam told AFP.
"It's the best gift for (the) nation as we celebrate the Victory Day on December 16," he said, referring to the national day that marked Bangladesh's independence war victory against Pakistan.
Molla's wife and children were allowed a final meeting with him at the prison hours before the execution, and found him to be "calm".
"He told us that he is proud to be a martyr for the cause of the Islamic movement in the country," Molla's son Hasan Jamil told AFP.
Shortly after the execution, Molla's body was driven by police escort to his home village in central Faridpur district, where he was buried beside his parents' graves in a pre-dawn service attended by around 300 people, local police Mohammad Ali told AFP.
'Political Murder'
Jamaat has called the execution a "political murder" and warned of exacting revenge for "every drop" of Molla's blood.
But in a sign of the sharp divide in Bangladesh, thousands of secular protesters erupted in celebration as news of the execution came.
They had been camping at Shahbagh square in Dhaka since Tuesday night, shouting slogans including: "Hang Quader Molla, hang war criminals".
After a trial by a much-criticised domestic tribunal, Molla was found guilty in February of having been a leader of a pro-Pakistan militia which fought against the country's independence and killed some of Bangladesh's top professors, doctors, writers and journalists.
A key opposition official, he was convicted of rape, murder and mass murder, including the killing of more than 350 unarmed civilians. Prosecutors described him as the "Butcher of Mirpur", a Dhaka suburb where he committed most of the atrocities.
Molla was one of five Islamists and other politicians sentenced to death by a domestic court known as the International Crimes Tribunal, which the opposition says is aimed at eradicating its leaders.
The sentences have triggered riots and plunged the country into its worst violence since independence. Some 233 people have now been killed in street protests since January, when the verdicts were first handed down.
Hasina's government says three million people died in the 1971 war, many at the hands of pro-Pakistan militias led by Jamaat leaders who opposed secession from the Islamic Republic of Pakistan on religious grounds.
Independent researchers put the death toll between 300,000 and 500,000 people.