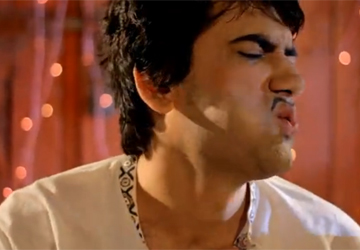 KARACHI: Saturday brought with it an explosive new music video by Beyghairat Brigade in an explosive political climate – just weeks away from the election and two days after former President Pervez Musharraf's arrest was ordered by the Islamabad High Court.
'Dhinak Dhinak' by the band of young men whose earlier claim to fame was 'Aalu Anday', is far more innocent sounding than it emerges to be. Here's a hint:
Gernailaan da aye jadoo,
sab ker lay ka kaboo aye, Aiween na tu khabra,
Paway vekh lay woh maazi, ay mar lain gay baazi ay
(The generals will make things alright Boy,
there's no need to worry
They've done this in the past, they know how to ace this bet)
The hard-hitting satire aimed at Pakistan's military establishment went viral on social media, with Twitter aficionados heaping praise on the biting and unusually bold attack.
Ali Aftab Saeed, the lead vocalist for Beyghairat Brigade told Dawn.com that "this idea isn't new. We've been working on it for a year, because of several reasons — some monetary issues, and also because no studio was willing to record it (because of its content)." The timing is also not coincidental — Saeed explains that while initially the song was written during the time Nato supply routes had been shut, it was edited as time went by and and as political scenarios changed — until Musharraf's arrest, when it was considered a good time to release it.
While Pakistani media and music has often, in the past, lashed out at the corruption and incompetence of politicians through satirical shows like Hasb-e-Haal or generally lamented the 'political situation' through songs like "Laga reh" by Shehzad Roy, taking on the powerful military through mainstream pop culture is almost unheard of. According to Saeed, the reason they decided to hit out at the military was because "Of our own political ideology… and because we really feel like on TV and in all the newspapers, the politicians face all the bashing. I mean, nobody's a saint."
He adds that so far, the response has been overwhelming, with the exception of a few abusive tweets — "And we haven't received any calls so far," he adds, perhaps in reference to the cheeky message at the end of the video which states, " No need to like this video, we'll be dead anyway!"
This isn't the first time that Beyghairat Brigade's politics have gone viral. Last year, Aalu Anday also hit out at the various players in Pakistan's dramatic political landscape, from the chief justice to Ajmal Kasab to PTI, and in a rather more subtle way, the military.
A rather different message
Contrast this with the video "Jamhoori Chor", which emerged just a day earlier by a band called Naa Maloom Afraad – who, significantly, haven't revealed their identity publicly and choose to remain out of the video for their song. At first glance, the two videos seem like they fit in the same genre: Political satire, expressed through humorous videos and lyrics.
But a closer look reveals something far more different: The video shows people impersonating politicians on a (fake) talk show before the conversations interrupts into a full-fledged free for all, with all the politicians at each other's throats. Make no mistake, the politicians bear an extremely close resemblance to a number of our political leaders, most notably President Asif Ali Zardari.
What's so different then? "Jamhoori Chor" focuses on Pakistan's 'corrupt politicians' with people from just about every province and ethnicity represented – except, notably, Punjab. There is no mainstream Punjabi political party or politician to be seen being made fun of.
Dawn.com decided to investigate further, which ended up here at what appears to be the official website for "Jamhoori Chor": No partisan choices have been declared, but the band's song accompanies a playlist consisting of Pakistan's classical 'patriotic songs' including Dil Dil Pakistan, Jazba Junoon and ironically, even 'Hum Dekhain Ge' by revolutionary poet Faiz Ahmed Faiz.
On the website is a rather sinister message about these "Jamhoori Chor": "The sad and unfortunate part is that it is the very people of this beautiful nation who not only allow these Jamhoori Chor to carry on but rather put them on the mantle and that too repeatedly, again & again and again!!! This Jamhoori Chor has now become so self-absorbed in its misdoings & inflated in its ego that it believes itself indestructible and totally irreplaceable."
Before an ill-informed similarity is drawn between the two songs then – will the real Na Maloom Afraad please stand up?