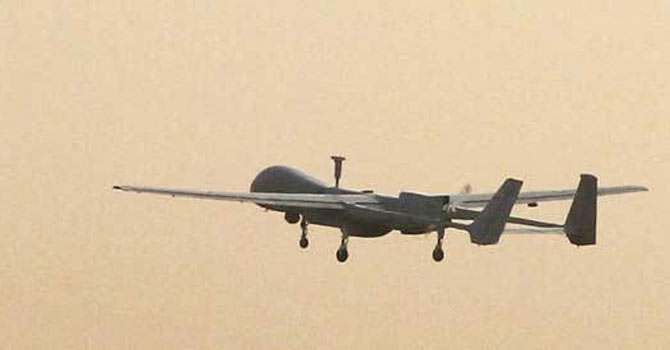 US drone. —File Photo
PESHAWAR: Four people were killed early on Friday by a suspected US drone strike in North Waziristan tribal region, intelligence sources claimed.
The sources said that the US drone fired two missiles on a house in Dattakhel Tehsil of North Waziristan Agency, killing four suspected militants.
The political administration and the military authorities in the tribal areas do not comment on the drone strikes. However, the intelligence reports said that those killed are suspected militants and their harbourers.
North Waziristan region is considered a bastion of Taliban and al Qaeda-linked militants.
The area, which is close to the Pakistan-Afghanistan border, is one of the seven regions in Pakistan's Federally Administered Tribal Areas (FATA), governed by tribal laws.
Attacks by unmanned US aircraft are deeply unpopular in Pakistan, which says they violate its sovereignty and fan anti-US sentiment, but US officials are said to believe the attacks are too important to give up.