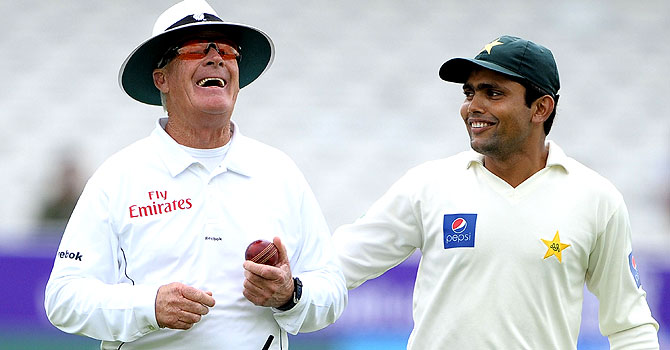 The 63-year-old Rudi Koertzen (l) officiated in 108 Tests and 209 one-day internationals before retiring in 2010. -Photo by AFP
KARACHI: Former South African allrounder Mike Proctor, fellow countryman Rudi Koertzen and Zimbabwean Russell Tiffin were Thursday confirmed as match officials for Pakistan's Twenty20 league.
Although all three have retired as top-level ICC (International Cricket Council) officials, their confirmation is the first sign of foreign participation in the Pakistan Super League (PSL) which starts from March 26.
"The PSL is pleased to announce that, apart from Pakistani umpires Aleem Dar and Asad Rauf, three other match officials Procter, Koertzen and Tiffin have confirmed their participation in the PSL 2013," said a PCB release.
Pakistan Cricket Board (PCB) said the league is the first step towards reviving international cricket in the country since it suspended in March 2009 following a terrorist attack on the Sri Lankan team bus in Lahore.
PSL managing director Salman Sarwar Butt said he was pleased with the appointments.
"The PSL is in full steam recruiting top-notch match officials and exciting cricketers. In addition, preparation is proceeding apace in all other aspects and the team is well on track," said Butt.
The PCB faces a huge challenge in convincing foreign players and match officials to come for the inaugural edition of the PSL, with a max of six foreign players in each of the five teams.
The league further ran into trouble on Tuesday when the Federation of International Cricketers Association warned foreign players not to tour Pakistan because security was "not manageable."
But the PCB on Wednesday brushed aside the warning and claimed there was an encouraging response from players, sponsors and officials.
Proctor played seven Test for South Africa in 1960s before his country was banned from playing international cricket due to apartheid. He later had a stint as ICC match referee between 2002 and 2008.
The 66-year-old, who is an official in the ongoing Bangladesh Premier League, said he was pleased to be part of the PSL.
"I am delighted to announce that I have agreed to be one of the match referees in the upcoming PSL," Proctor was quoted as saying in the press release.
"After due consideration, I am looking forward to being a part of this exciting event in Pakistan."
Proctor, who was match referee when a Test between Pakistan and New Zealand was abandoned after a bomb blast in Karachi in 2002, said he holds Pakistan in high esteem.
"I have always thought very highly of the talent and potential of Pakistan cricket. It is unfortunate that Pakistan and its fans do not currently enjoy their beloved international cricket stars at home and this cannot remain so.
"I am willing to get involved and to help change perceptions about cricket being played in Pakistan."
The 63-year-old Koertzen officiated in 108 Tests and 209 one-day internationals before retiring in 2010.
Tiffin, from Zimbabwe, stood in 44 Tests and 126 one-day internationals.