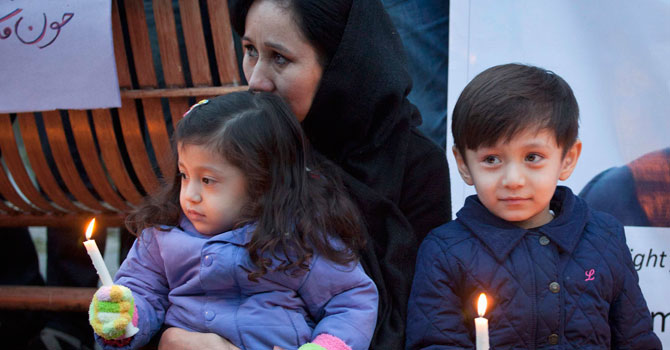 A woman sits with her children holding lighted candles during a protest against bomb blasts a day earlier in Quetta, organised by various non-governmental organisations (NGOs) in Islamabad, Jan 11, 2013. — Photo by Reuters
ISLAMABAD: Prime Minister Raja Pervez Ashraf on Saturday issued directives to delegate policing powers to the Frontier Corps (FC) in Quetta, DawnNews reported.
The premier issued the directives after a meeting with Interior Minister Rehman Malik.
The FC has been directed to assist the Balochistan government in maintaining peace and controlling the law and order situation in the province in the wake of the multiple bombings that have claimed the lives of over 100 people.
Furthermore, the prime minister directed Information Minister Qamar Zaman Kaira to immediately leave for Quetta in order to monitor the situation in the provincial capital.
Prime Minister Ashraf has moreover announced compensation of rupees one million for the heirs of each victim killed in the bombings and rupees 100,000 for each person injured in the explosions.
He moreover ordered that C-130s be sent to Quetta in order to shift the wounded to Karachi for medical treatment.
The premier has moreover directed Chief Minister Balochistan Aslam Raisani, who is currently abroad, to return to the country without further delay.