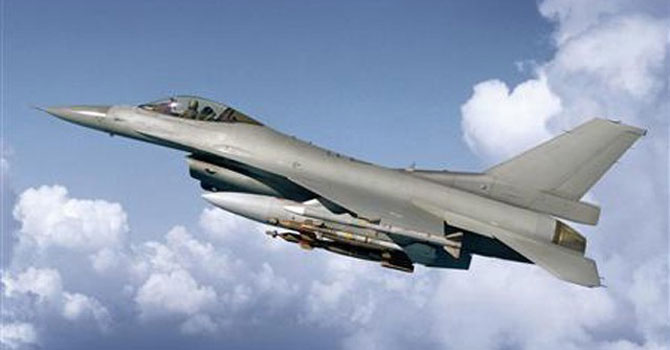 An F-16 fighter jet. — Photo by Reuters
PESHAWAR: Bombardment by Pakistani military jets killed eight suspected militants in Orakzai tribal region whereas three persons, including the son of a tribal leader, were killed in another unrelated firing incident in Khyber tribal region on Sunday.
Security sources while talking to Dawn.com said that Pakistani military jets bombarded three suspected militant hideouts, killing eight suspected militants and injuring another in Mamozai area of Orakzai tribal region.
More details were not available till the filing of this report.
Security sources claimed that 92 per cent area in Khyber tribal region had been cleared out of militant infestation.
In another unrelated incident, three persons were killed and a woman was injured when unknown gunmen, riding a motorcycle, opened fire in Khyber tribal region.
According to sources the son of a tribal leader was traveling in a passenger vehicle from Chipri to Jamrud when unknown gunmen opened fire on the vehicle.
Security forces cordoned off the area as investigations into the incident went underway.