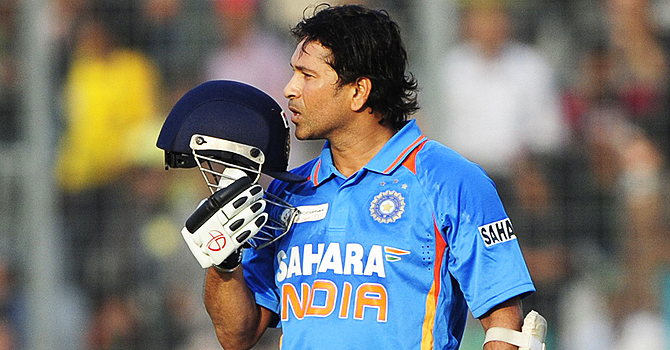 Sachin Tendulkar. -Photo by AFP
KARACHI: Famed Pakistan pace duo Wasim Akram and Waqar Younis Monday paid rich tribute to Indian batting maestro Sachin Tendulkar, labelling him "the greatest batsman of this era".
Tendulkar, 39, announced his retirement from one-day internationals on Sunday after scoring 18,426 runs in 463 matches with 49 centuries - all three world records for most runs, matches and hundreds.
"I don't say that a batsman like him will not come but he was the greatest batsman of this era and to maintain the zeal and fitness for 23 years was a big achievement for him," said Waqar, who retired in 2004.
"I also feel proud that I played against him and found him a great player and a nice gentleman."
Wasim said Tendulkar's records spoke volumes about his achievements.
"It will be tough to match them in the years to come," Wasim told AFP. "He was a special talent and a very special cricketer."
Tendulkar made his Test debut against India's arch-rivals Pakistan in Karachi in 1989 and Wasim recalled mocking the young batsman with his bowling partner.
"Sachin was really 16 at the time when he came to Pakistan in 1989 and Waqar and I thought, 'What will this 16-year-old do against us?'" he said.
"I hit him on the mouth but he showed a lot of gumption and courage to score a fifty in the fourth Test in Sialkot and after that innings we realised that he is a special talent."
As the leading batsman for cricket-mad India, Tendulkar carried the weight of a nation's expectations on his shoulders, but Wasim said he handled the burden well.
"Sachin always played under a lot of pressure from the billions of Indian fans and the kind of consistency he showed proved that he handled those pressures and huge expectations admirably well," said Wasim.