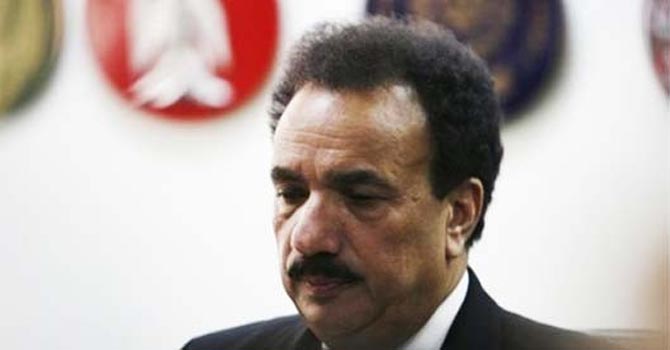 Federal Interior Minister Rehman Malik. -File Photo
ISLAMABAD: After a series of suicide bombings and attacks in which explosive devices were said to have been detonated by mobile phones, the government decided on Friday to suspend the cellphone network for varying periods in about 50 cities across the country on Saturday and Sunday, the 9th and 10th of Muharram, to provide security to mourners.
The cellphone network was blocked in Karachi and Quetta for up to 11 hours on Friday. After its restoration at about midnight, the service again blocked at 6 in the morning on Saturday.
The government also enforced a blanket ban on motorbikes in Hyderabad and Quetta on Friday for three days. There is a ban on pillion riding across the country till Sunday.
Interior Minister Rehman Malik experimented with the suspension of mobile phone service on Eidul Fitr in August this year. The step was taken again when street protests erupted in the country against a blasphemous film in September and again on Eidul Azha in October.
But the scope of suspension this time covers a large number of cities and the duration is also quite long. This time the PTCL wireless phones will also go silent.
The decision had been taken at the request of the provincial governments, Mr Malik said. And possibly because of the frequent attacks on Muharram processions and Majalis over the past two weeks, this time the measures taken by Mr Malik are not being criticised. On earlier occasions he was widely criticised, and even ridiculed.
Talking to reporters after presiding over a high-level meeting on security arrangements for Ashura, the minister said the suspension of mobile phone service would be effective from 6am to 10pm on Saturday and Sunday.
The cities where services will remain suspended are: Karachi, Khairpur and Larkana in Sindh; Lahore, Multan, Sargodha, Attock, Jhang, Rahimyar Khan, Faisalabad, Gujranwala, Bhakkar, Pakpattan, Nankana Sahib, Dera Ghazi Khan and Muzaffargarh in Punjab; Quetta, Kalat, Khuzdar, Turbat, Gwadar, Panjgur, Mastung, Kohlu, Dera Bugti and Hub in Balochistan; Kohat, Ustarzai, Hungo, Bannu, Lakki Marwat, Dera Ismail Khan, Tank, Nowshera, Haripur, Charsadda and Mardan in Khyber Pakhtunkhwa; Parachinar and Miramshah in Fata; Muzaffarabad, Mirpur, Kotli, Rawalakot, Neelum Valley in Azad Kashmir, and in Gilgit.
Mr Malik said the service will also be suspended in some parts of Rawalpindi and Islamabad.
Dispelling a perception that this was his personal decision, Mr Malik said he had received written as well as verbal requests from the provinces in this regard. The requests were examined and approved by Prime Minister Raja Pervez Ashraf.
He pointed out that pillion-riding had been banned across the country and advised people to keep their motorcycles off the road till 10th Muharram. Hawkers using motorcycles have been allowed to distribute newspapers from 6am to 10am and they have been advised to keep their service cards with them.
Earlier, the meeting was informed that intelligence reports suggested that terrorists were planning more attacks in the coming days, particularly in Karachi, Quetta and Islamabad. It was decided that anyone identifying a material linked with improvised explosive devices (IEDs) would be given a cash prize of Rs5 million.
The provincial authorities have been asked not to allow parking of any vehicle within half kilometre of Majlis venues and procession routes where maximum numbers of jammers will be put in place. Any car or motorcycle found parked along the procession routes and near Imambargahs will be removed and checked for IEDs.
Law enforcement agencies will carry out advance sweeping of all procession routes. All garbage bins and electricity transformers along the routes will be physically searched for IEDs.
Food stalls along the routes and close to Imambargahs will be minutely checked for security clearance. Sharpshooters with proper means of communication will be posted in buildings and places overlooking the routes of procession.
Anybody caught planting an IED will be dealt with in accordance with the law, but he will be given the right to defend himself. A large number of cameras will be made operational during the processions.
The interior minister asked intelligence agencies to provide assistance in preventing incidents of terrorism, besides collecting information about terrorist groups.
He appealed to scholars of different schools of thought to promote harmony and avoid using inflammatory language and making derogatory remarks against other sects.