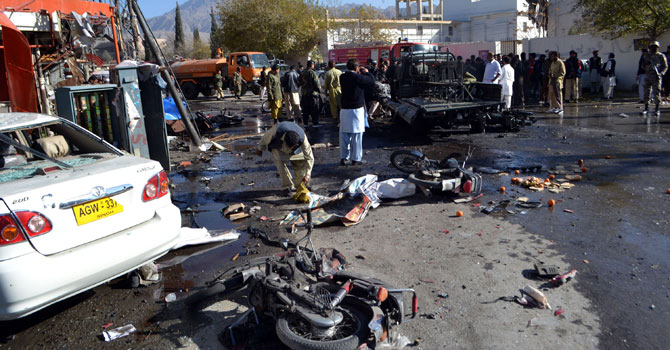 Security officials scan the site of the bomb explosion in Quetta on November 21, 2012. —AFP Photo
QUETTA: A bomb tore through a security forces vehicle escorting schoolchildren home from school on Wednesday, killing four personnel and a woman in the southwestern city of Quetta, police said.
The attack also wounded more than 20 people, officials said.
"The target was an army vehicle which was escorting a school bus carrying children of local army officers from different schools," Quetta city police chief Hamid Shakeel told AFP.
He said four soldiers and a woman were killed when the bomb, planted on a motorcyle, was detonated by remote control.
"Twenty-one people were wounded in the blast, including three soldiers. Eighteen are civilians. Six or seven of them are in a serious condition," Shakeel said.
Witnesses said the motorbike appeared to have been parked near shops to avoid any suspicion in the Shahbaz Town neighbourhood near some of the most prestigious private schools in Quetta.
"I was returning to my shop after saying prayers in a nearby mosque," said shopkeeper Mohammad Talib, 45.
"Soon after, I heard a huge blast. There was dust and smoke. I saw an army vehicle in flames. Shards of glass were littered on the road. There was panic, people were screaming, others were fleeing the area."
Fruit vendor Abdul Karim, 30, said the army vehicle took the same route every day after school.
"After some time police and FC (Frontier Corps paramilitary) troops arrived. They fired in the air to scare people away. Soon shops were closed and people emptied the area."
Quetta is more than 400 miles (640 kilometres) southwest of Islamabad, where security has been significantly stepped up. The event coincides with the holy month of Muharram, a magnet for sectarian attacks.
There was no immediate claim of responsibility for Wednesday's attack but Quetta and its province Balochistan are frequently hit by bomb attacks.