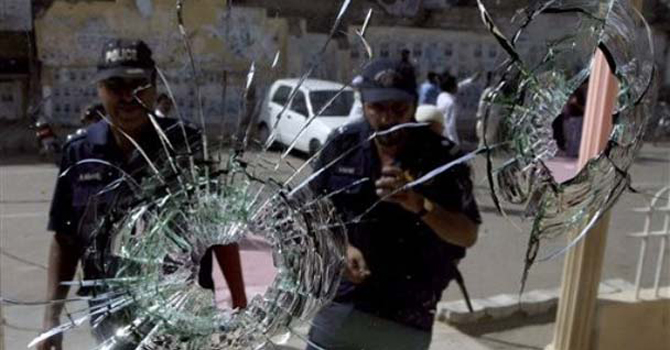 — File Photo
KARACHI: At least five people, including religious leader Agha Aftab Haider Jaffery, were shot dead in the city on Tuesday, DawnNews reported.
Unidentified gunmen killed two men at the New M A Jinnah road near the parking plaza in Saddar. The deceased were  identified as Agha Aftab Haider Jaffery and Shahid Ali.
People protested against the killings at the M A Jinnah road disrupting traffic.
The Shia Ulema Council Pakistan and Jafaria Alliance Pakistan condemned today's acts of violence targetting the Shia community while the Majlis-i-Wahdatul-Muslimeen announced three days of mourning.
Earlier today, unidentified men threw three dead bodies in the city's Karimabad area. The suspects managed to escape. Police sources claimed the bodies bore torture marks.
Moreover, there was a report of a suspicious package near near Jinnah's mausoleum at Karachi's M A Jinnah road. A bomb disposal squad (BDS) reached the site and defused the explosive which weighed five kilograms.
Earlier yesterday, Rangers, after conducting an operation in the city's Gulistan-i-Johar area arrested two men who were suspected of being associated with a banned party.