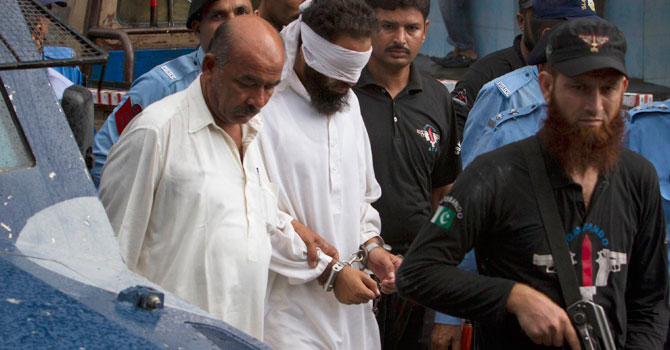 Police escort blindfolded cleric Khalid Jadoon Chishti as he is brought before a judge at a court in Islamabad, Sept 2, 2012. — Photo by Reuters
ISLAMABAD, Sept 3: The chairman of the Pakistan Ulema Council, Allama Tahir Mehmood Ashrafi, demanded on Monday that a joint investigation team (JIT) of intelligence agencies should be constituted to clear confusion about the registration of a blasphemy case against a Christian girl and detention of a prayer leader on the charge of tampering with the evidence.
Addressing a news conference along with Pakistan Interfaith League chairman Sajid Essaq, he alleged that the issue was being handled in a manner that smacked of a conspiracy to do away with the blasphemy law which, he said, would never be allowed.
"To sort out truth from fiction and to identify the real culprit an investigation team comprising representatives from various intelligence agencies should be formed to carry out an impartial investigation," he said.
The case took a new turn on Friday when the muezzin of a mosque gave his second statement in police custody and asserted that the prayer leader Khalid Jadoon Chishti had added a few pages of the Quran in the evidence to implicate the poor girl in the blasphemy case and also incited people of the area to hold a protest outside the local police station.
"We support the demand of judicious use of blasphemy law but will never allow repeal of the law on flimsy grounds or under international pressure," Allama Ashrafi said.
He asked how the SHO had registered the case under pressure of a few hundred protesters when the law provided that an officer not below the rank of superintendent of police would investigate an allegation of blasphemy before registering a case.
"It means that one day cases would be registered against the president or prime minister if a few thousand people besiege a police station."
He also demanded that a medical board should ascertain if the girl was mentally handicapped. And if it was so, he said, the accusers should be proceeded against immediately.
Sajid Essaq said the Interfaith League had worked in coordination with the Ulema Council to highlight the case.
He said his organisation had been able to provide protection to Christian families of Mehrabad with the help of ulema and their rehabilitation was under way.
He demanded that the authorities should not spare the prayer leader if he was proven guilty of burning pages of the Quran to implicate the girl in a false blasphemy case.