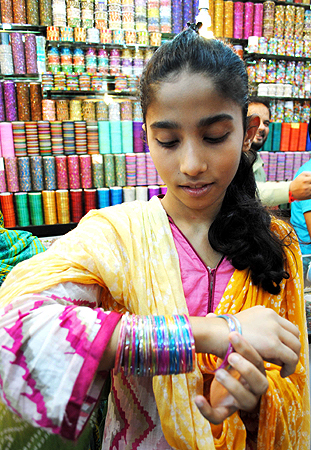 The glass bangle industry finds its origin in Ferozabad in Indian state of Uttar Pradesh.
After partition families of Ferozabad associated with this work also migrated to Pakistan and largely settled in Hyderabad.
They started this industry here. The glass bangle industry's tentacles are growing wider. It involves a large number of women who work as home based workers under no legal cover of labour laws to earn a living.
They are exposed to safety hazards as well during different stages of bangle work. They suffer from poor eyesight vision and other ailments.
Their wages are poor given whereas factory owners, dealers and retailers make most gains. Around 30 odd factories exist in Hyderabad where according to labour rights leaders bangle workers are not governed by Sindh Employees Social Security Institution or Employees Old-Age Benefits Institutions (EOBI) regulations as these institutions look the other way.
Bangles go through 28 different processes before reaching the buyers.
Most of the work is done in homes and home-cum-factories where bangles are cut, designed and coloured.
This kind of work is now taking place in other cities besides Hyderabad. The finished product reaches buyers all over the country from wholesale markets of bangles in Hyderabad.
The wholesalers, factory owners and retailers don't share actual profit margins they earn.
While customers may have other products to consider, it's unlikely that glass bangles will ever lose their charm for most women.
-- Photos and Text by Muhammad Hussain Khan