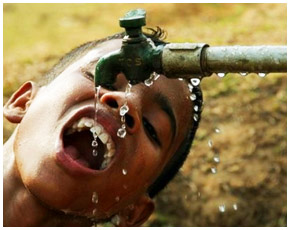 There's been much discussion lately about the "
water kit
," a mysterious contraption that a purported Pakistani engineer insists will enable cars to use water as fuel.
Yet missing from this debate is a basic but critical fact: Pakistan is dangerously water-deficient. Per capita availability hovers just above the scarcity threshold of 1,000 cubic meters. In several decades, availability could plummet to 550 cubic meters.
So even if this bizarre water car somehow defied the laws of physics and managed to work, it would be unsustainable — unless it used the Arabian Sea as a giant filling station, or guzzled bottled water.
It's not surprising that few have mentioned this water dilemma. Water resource issues —and other human security topics like food security, public health, and education — are repeatedly drowned out of Pakistani public debate by the incessant din surrounding militancy, political drama, and the US-Pakistan relationship.
This is unfortunate, because human security issues affect so many more Pakistanis than do extremism, political infighting, or US policies.
By no means am I minimising or trivialising the 35,000 Pakistanis killed in terror – and counter-terror related violence, the scores of tribal residents traumatised by drone strikes, or the many Karachiites harmed by their city's unrest.
However, this doesn't compare to the 40 to 55 million Pakistanis without access to safe drinking water. Or to the nearly 60 per cent — that's almost two-thirds of the total population — designated as food insecure ("Pakistan will lose an entire generation to malnutrition,"warns a UNICEF officer). Or to the more than 40 million of Pakistan's 70 million school-age children (ages 5 to 19) not in school.
This frequently brings deadly consequences. Yet how often, other than at the occasional conference or report release, is anything heard about the 1.2 million Pakistani lives lost to waterborne disease each year — and those of the 630 children lost each day? Or about the malnutrition responsible for about half of Pakistan's child deaths? Or about the 46 of every 1,000 babies born dead — the world's highest stillbirth rate?
My own experiences are instructive. When I first started writing for Dawn and other Pakistani outlets, I focused on human security issues in the country — such as large-scale foreign acquisitions of farmland and poor water-demand management. On the day after Osama Bin Laden's capture, I published a piece examining how aquaculture can alleviate food insecurity.
These writings generated a modest response, and resulted in some interesting and fruitful discussions with Pakistanis involved in these matters. Yet I received a much larger response from Americans, and from US government officials pursuing development projects in Pakistan.
Only more recently have I begun writing on hard security issues and the US-Pakistan relationship. These pieces have produced a much larger and noisier Pakistani response — from well-reasoned emails to an ever-cascading volume of equal-opportunity hate mail (accusing me of being both a CIA agent and a stooge of the Pakistani establishment).
My point is that there seems to be a relatively limited audience in Pakistan for the decidedly less sexy topics of human security. This is not to say no one is talking about them. Ahmad Rafay Alam, Syed Mohammad Ali, Zofeen Ebrahim, Zubeida Mustafa, and Najma Sadeque, among others, ensure they receive a modicum of coverage in the print media.
Yet on the uber-popular television news shows, nary a word is heard. Instead of debating water, angry guests hurl glasses of it at each other. Meanwhile, the politicians complain about India stealing it (in recent weeks, the Difa-e-Pakistan Council has been escalating such claims).
Because of their prominence and reach, it is the news anchors and politicians who most need to get these issues on the front burner. What if Hamid Mir produced a show about Pakistan's acute food insecurity? Or if Meher Bokhari directed her shrill criticism toward the feudal landlords who prevent irrigation water from reaching poor farmers? Or if Maya Khan, instead of prowling Karachi's public parks for frolicking couples, scoured the city for leaking water pipes and electricity theft?
And what if the PML-N handed out free water purification tablets instead of laptops? Or if Imran Khan promised a million nutritious meals, not an end to corruption, in 90 days?
Such efforts would resonate. Yet because they're perceived not to "sell" or to provide satisfactory political advantages, they won't be forthcoming anytime soon.
If only media and political celebrities took the lead of Pakistan's civil society. Here, as I've explained previously, rural radio programs spotlight woman's struggles to secure water, and university buildings showcase rainwater harvesting and other resource-conservation methods. Additionally, theaters put on performances that spotlight the role of the arts in addressing Pakistan's water crisis.
These are examples worth emulating. The water kit may be sheer fantasy, but the struggles of Pakistan's sick, food-insecure, and water-short are not. They deserve much more attention.
---
The author is the program associate for South Asia at the Woodrow Wilson International Center for Scholars in Washington, DC. You can reach him at michael.kugelman@wilsoncenter.org
---
The views expressed by this blogger and in the following reader comments do not necessarily reflect the views and policies of the Dawn Media Group.