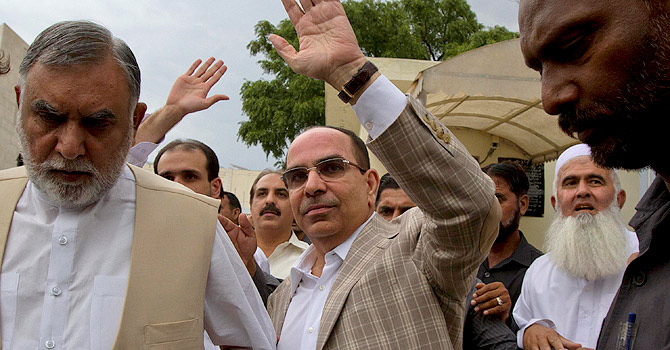 Real estate tycoon Malik Riaz (C) waves to members of the media as he leaves after appearing before the Supreme Court in Islamabad, June 12, 2012. — Photo by Reuters
ISLAMABAD, June 15: The airing of an off camera discussion between two talk show hosts and a property tycoon has instigated a war of sorts between news channel as Dunya recovered from Thursday's embarrassment and launched an attack on a rival.
Mehr Bokhari and Mubashir Lucman, who till recently worked with Dunya News, were shown interacting with Malik Riaz, a controversial property tycoon, during the commercial breaks, when the three were off air. They were seen discussing questions and chatting in a manner which suggested that the interview was pre-planned to an extent. Since the airing of the footage, it has been made public that Lucman has been suspended.
This off air footage was uploaded on the internet on Thursday afternoon and by evening it was the talk of the talk shows on many channels. This included Geo Television, whose talk show host, Hamid Mir, had also made an appearance in these unguarded conversations. Mir's programme also discussed this footage, especially criticising Mubashir Lucman.
By Friday, Dunya had decided to hit back.
Throughout the day, Dunya's news bulletins accused Geo of having conspired to embarrass Dunya because it had overtaken Geo in ratings.
It claimed that the footage was leaked in a conspiracy to undermine its rising popularity – and the culprit was Geo TV.
By the evening, the rest of the news channels also returned to this controversy, most of them presenting the issue differently depending on their political inclination and talk show hosts were expounding on what they thought were the corrupt and unethical practices within their ranks.
At the same time, the controversy also found a new audience — the Supreme Court judges.
The full court meeting that had been called before this footage made it to the internet was used — partly — to watch this footage.
While the judges watched Lucman and Bokhari ask what Riaz would like for dinner, they also reprimanded the Pakistan Electronic Media Regulatory Authority (Pemra) Chairman, Dr Abdul Jabbar, for allowing the airing of the controversial material uninterrupted.
All this was covered by the news channels – live. News bulletins show Chief Justice Iftikhar Muhammad Chaudhry scolding the Pemra chief.
But even this could not eclipse the fightback strategy of Dunya.
Geo didn't respond to this assault in its news bulletins on Friday.
When contacted, Hamid Mir stuck to his position of a day earlier and said that the issue needed a thorough investigation both at the level of journalist associations and of the government.
But if there was a section of society that enjoyed this spectacle it was the political class, which for once was spared a grilling as talk shows picked each other to pieces and reached out to politicians for support.
Maryam Nawaz Sharif, daughter of PML-N chief Nawaz Sharif tweeted: "clash of the titans. For the 1st time politicians are the spectators and not the victims. Media now seeking politicians for their rescue!!"
As they were called on air to comment on the issue, politicians got ample opportunity to offer advice to the very people who have been grilling and interrogating them for years. And for once they could tell someone other than their own ilk to carry out accountability and eliminate corruption.
Nadeem Afzal Gondal of PPP argued that television anchors had been very unforgiving towards politicians and had encouraged members of rival political parties to fight with each other. He felt that now it was time for journalists to look at their own industry. "It will be better if journalists sit together and resolve their issues, instead of washing their dirty linen in public," he added.
Sharing his personal experience, Khawaja Asif of the PML-N said, on a show, that recently when he was accused of being a dual national, news channels ran the 'fact' without checking it. "It was absolutely wrong."
He asked the talk show host, "Now you tell me, how can I rectify this malicious campaign that has tarnished my image?"
Qamar Zaman Kaira, Federal Minister for Information and Broadcasting, also told a news channel that it was the responsibility of the media organisations to formulate some code of ethics and then implement it.
Whether the weekend will bring a fresh bout in this war remains to be seen.