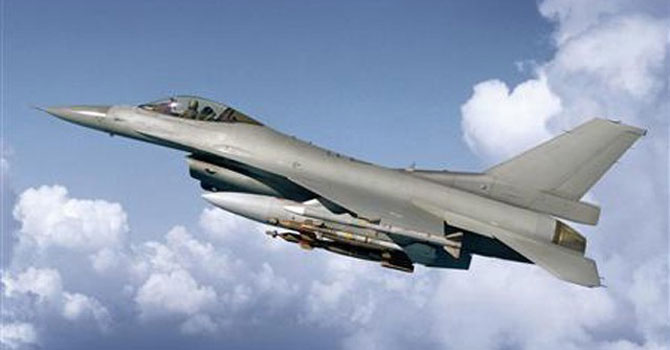 An F-16 fighter jet. — Photo by Reuters
PESHAWAR: Fifteen militants were reportedly killed and three insurgent hideouts destroyed in action by security forces in the northwestern tribal regions of Orakzai and Khyber, DawnNews reported.
Ten 'militants' were killed when fighter jets pounded suspected insurgent hideouts in Orakzai tribal region's Mamozai, Jandarkhel and Samaa Bazaar areas.
The bombardment destroyed three suspected militant hideouts.
Security sources say over 92 per cent of Orakzai has been cleared of militants in the ongoing military operation in the region.
In another attack by airforce jets, five suspected militants were killed in the Khyber tribal region's Tirah valley area.
The casualty figures from the reported action could not be independently verified.
Pakistan's seven tribal districts near the Afghan border are rife with homegrown insurgents and are alleged to be strongholds of Taliban and al Qaeda operatives.
Militants have killed more than 4,800 people across Pakistan since July 2007.