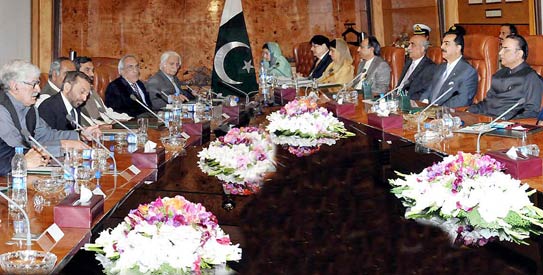 ISLAMABAD: A meeting of the heads of allied parties was held in the Presidency on Tuesday with President Asif Ali Zardari and Prime Minister Yousuf Raza Gilani in the chair.
Spokesperson to the President Senator Farhatullah Babar said that the meeting was in continuation of the earlier meetings held on March 14 and 17, and discussed security and foreign policy related issues.
The meeting was attended by Senator Mushahid Hussain Syed, Asfandyar Wali Khan, Senator Afrasiab Khattak, Dr Farooq Sattar, Haider Abbas Rizvi, Senator Mir Israrullah Zehri, Munir Khan Orakzai, Spokesperson to the president Senator Farhatullah Babar, Engr Shaukat Ullah, Khuda Bux Rajar, Syed Khursheed Shah, and Syed Muzzafar Hussain Shah.
Foreign Minister Ms Hina Rabbani Khar, Finance Minister Dr Abdul Hafeez Sheikh, Secretary General M. Salman Faruqui, Chief of the Air Staff Air Chief Marshal Tahir Rafique Butt, DG ISI Lt General Zaheerul Islam, Foreign Secretary Jalil Abbas Jilani and Defence Secretary Ms. Nargis Sethi were also present during the meeting.
The meeting discussed issues relating to the report of the Parliamentary Committee on National Security that was presented in the joint session of the Parliament earlier today.