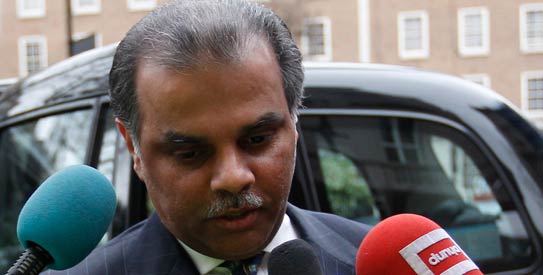 ISLAMABAD: The memo commission on Friday continued recording testimony of an 'ill-behaved' Mansoor Ijaz via video conferencing from London High Commission.
During the proceedings on the third consecutive day, Ijaz showed a portion – only four out of 39 pages – of his telephone's bill to the commission.
He argued before the panel that his telephone was registered on his company's name and that he cannot reveal the bill's entire content because it is classified, following which, the commission directed its secretary Jawwad Abbas to contact and retrieve the copy of bill from the telephone company and courier it to them.
Ijaz further said that Husain Haqqani (former ambassador to the United States) uses two phones — one official and one personal, adding that Haqqani used his personal phone during their communication on May 9.
An interesting situation arose during the proceedings when Ijaz called Zahid Bukhri, the counsel for Haqqani, "non-sense."
Hot words were exchanged afterwards and Bukhari raised objections over Ijaz's behaviour.
The commission directed Ijaz to behave in accordance with court norms.—DawnNews