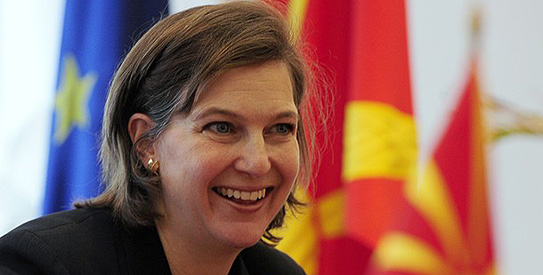 WASHINGTON: The United States is working with Pakistan to help it deal with the consequences if it agrees to abandon the Iran pipeline project, says the US State Department. "Pakistan is one of the countries that we're working with, primarily from the US Embassy" in Islamabad, the department's spokesperson Victoria Nuland told a briefing in Washington when asked if the United States was also urging Pakistan not to buy gas from Iran.
Earlier this month, US President Barack Obama signed into law new sanctions against Iran.
The measure, which Congress passed as part of the 2012 National Defence Authorisation Act, penalises foreign financial institutions that do business with Iran's central bank, as Pakistan will have to if it buys gas.
"We're talking to countries around the world about the implication of this legislation and our efforts to cut global dependence on Iran,"
Ms Nuland said. Asked if Washington was encouraging Pakistan to buy cheaper gas from US companies, the State Department official said: "I don't have anything specific on where those conversations are leading, but we are talking about all kinds of diversification."
The US media reported earlier this week that the US has stepped up efforts to persuade Pakistan to abandon not only the gas pipeline project, but also to stop purchasing liquefied natural gas from its western neighbour in return for cheaper gas from US companies.
The reports said that US embassy officials in Islamabad had held several meetings with senior Pakistani officials to learn more about the country's current LNG import and about the IP gas pipeline project.
US experts quoted in the media say that the Iranian gas will cost $12 per million British thermal units (mmbtu) while LNG would cost $18 per mmbtu.
The United States could help Pakistan buy LNG at $4.5 per mmbtu.
American experts also say that US energy companies have increased gas supply in recent years, causing natural gas prices to fall 5.7 per cent on January 12, to their lowest level in over two years.
And Pakistan should benefit from this change. The experts also argue that it will be cheaper for Pakistan to import gas from Turkmenistan.
The Pakistanis say that they too knew bringing gas from Turkmenistan would be cheaper but they fear that the situation in Afghanistan would not allow the construction of the proposed Turkmenistan-Afghanistan-Pakistan-India (TAPI) gas pipeline.
The multi-billion-dollar Iran-Pakistan gas pipeline deal with Tehran, which was signed in June 2010, aims to export a daily amount of 21.5 million cubic metres (or 8.7 billion cubic metres per year) of Iranian natural gas to Pakistan.
Maximum daily gas transfer capacity of the 56-inch pipeline, which runs over 900 km inside Iran before entering Pakistan, has been given at 110 million cubic metres.
The project was originally known as the Iran-Pakistan-India (IPI) pipeline project. But India left the project in October 2007.
Iran has already constructed more than 900 kilometres of the pipeline on its soil.
Follow Dawn Business on Twitter, LinkedIn, Instagram and Facebook for insights on business, finance and tech from Pakistan and across the world.