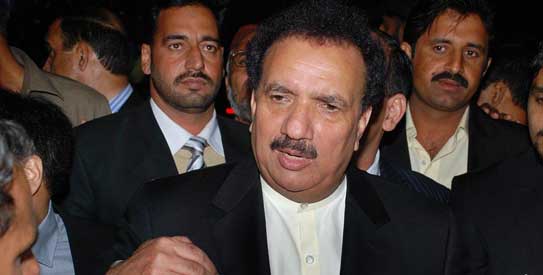 ISLAMABAD: Hours after the judicial commission probing the memo controversy under the Supreme Court's order asked the American businessman Mansoor Ijaz to appear before it on Jan 24, the Parliamentary Committee on National Security (PCNS) holding a parallel investigation into the matter decided to summon him on Jan 26.
Talking to reporters after presiding over a meeting of the committee on Monday, its chairman Senator Raza Rabbani said a notice asking Mr Ijaz to appear before the PCNS would be sent through Pakistan's embassy in the country where he resided.
The PCNS asked former ambassador in Washington Husain Haqqani and Inter-Services Intelligence (ISI) Director General Ahmed Shuja Pasha to submit their written statements by Jan 23.
Meanwhile, Interior Minister Rehman Malik hinted at registering a treason case against Mr Ijaz for allegedly playing a role in the fall of a PPP government in 1990s and for maligning the Pakistan Army and the ISL Talking to reporters outside the Parliament House, Mr Malik said the government had the right to 'examine' Mr Ijaz's role in the fall of the Benazir Bhutto government.
He said Ijaz had written columns against the Pakistan Army and ISI and it would be ' dishonest not to ask as to why he has written against our beloved army and the ISI'.
The minister sought the opposition's support in initiating a case under Article 6 of the Constitution against a person who had been conspiring against the country while sitting outside.
"If we are supporting PML-N'sdemand for initiating action against Gen Pervez Musharraf under Article 6, then the opposition and Nawaz Sharif should also support us," he said.
Mr Malik said he was ready to appear before the judicial commission and any step against Mr Ijaz would be taken strictly on a legal basis.
He said the government would provide complete security to Mr Ijaz whenever he visited the country. He said the government was ready to provide Mr Ijaz with security through police, army, Rangers and Frontier Constabulary.
In reply to a question, he said the National Accountability Bureau was not under the jurisdiction of the prime minister.
The minister said he was not in a position to confirm or deny the killing of militant leader Hakimullah Mehsud.