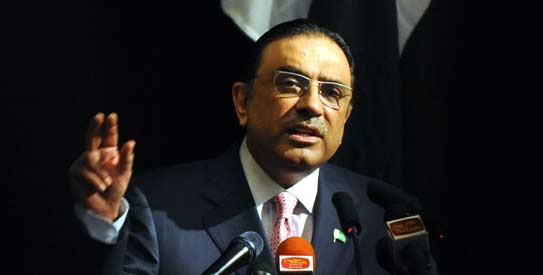 ISLAMABAD: Away from the political maelstrom generated by Supreme Court's summoning of Prime Minister Syed Yousuf Raza Gilani on contempt charges, parleys between the government and the military establishment for defusing the situation continued on Monday.
Chairman Joint Chiefs of Staff Gen Khalid Shameem Wynne met President Asif Ali Zardari at the presidency for what a source described as a follow-up meeting to the talks held between the president and Army Chief Gen Ashfaq Parvez Kayani over the weekend.
Not much was officially said about the meeting between President Zardari and Gen Wynne except for a one-line statement by the presidency: Professional matters pertaining to the armed forces were discussed during the meeting.
However, knowledgeable sources contended that they focused on finding a way out of the ongoing impasse.
Though nothing can be said with certainty as to how the civil-military talks are progressing, but there are hints that some progress is being made.
An army official, after maintaining silence over media reports that Gen Kayani in his weekend meeting with Mr Zardari demanded retraction of PM Gilani's comments about him (the army chief) acting unconstitutionally, confirmed that there was no such demand on the table.
He instead emphasised that the meeting was for lowering temperatures rather than raising it.
The presidency had denied that (the media report) immediately after it had been first reported by a news agency.
But some observers following the civil-military dialogue worried that legal developments could unsettle the easing of tensions between the government and the army.
Some even think that the military was the real force driving the legal battles in the Supreme Court-both the NRO and the memogate cases that can potentially cause the government's downfall.
It was probably in the context of these widespread doubts that Prime Minister Gilani, while speaking in the National Assembly, said the army and judiciary must prevent democracy from being derailed.