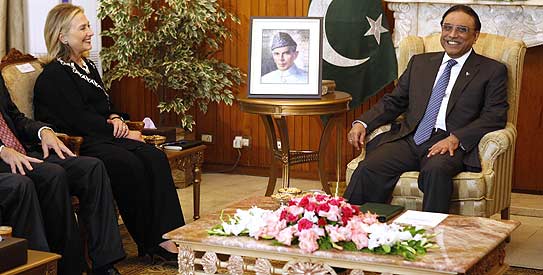 ISLAMABAD: President Asif Ali Zardari on Friday underscored the importance of enhanced consultations between the two countries on the basis of mutual respect, sovereignty and interests.
He was talking to US Secretary of State Hillary Rodham Clinton, is leading a high-level delegation, who called on him at Aiwan- e-Sadr here.
During the one-on-one and delegation-level meetings, the two sides discussed host of issues relating to Pak-US relations, fight against militancy, and regional situation with particular reference to the situation obtaining in Afghanistan.
He said public criticism of Pakistan's role undermines its common struggle against militancy in the region.
He said, "Our people and the leadership is among the first ones to fully realize and comprehend the threat posed by violent mindset which is bred on the premises of deprivation and fuelled by sense of inequality."
The President counted innumerable human sacrifices rendered by Pakistan in fight against militancy and extremism.
He said 30,000 innocent civilians along with 5,000 military and police officers laid their lives for the cause of securing their lands from the clutches of militant mind-set.
Discussing situation in Afghanistan, the President reiterated that Pakistan supports all efforts for regional peace, prosperity and connectivity, based on existing realities of the region.
The President said Pakistan, being the immediate neighbor has abiding interest in the peace, stability, security and prosperity of Afghanistan and will continue to support every effort in this regard.
He said besides being immediate neighbors, Pakistan and Afghanistan share many issues of similar nature thus making Pakistan affected directly by any development across the border.
He said Pakistan supports Afghan-led and Afghan owned reconciliation process.
Clinton appreciated Pakistan's contribution in promoting reconciliation.
She said that US administration desired continued partnership with Pakistan.
She agreed with the President's strong emphasis on promoting trade rather than aid as the vehicle for development cooperation and assured that the US administration was working to facilitate enhanced market access for Pakistani products.
Clinton also appreciated the economic reform initiatives taken by Pakistan which involved making difficult decisions and tough choices.
Affirming US continued support for the democracy in Pakistan; she also applauded unanimous resolution adopted by All Parties Conference recently.