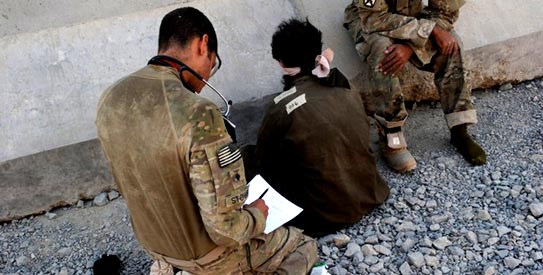 COMBAT OUTPOST MONTI, Afghanistan: They feel lucky to be alive after countless risky missions with US troops, but Afghan interpreters are sure of their fate if they stay put after American forces leave in 2014.
"The Taliban will kill me and my family. I can't stay in Afghanistan,"30-year-old Mohammad Yousaf told AFP.
Yousaf is one of thousands of young Afghan men who learned English from watching American movies and now act as vital intermediaries between international troops and locals in the decade-long war.
They work as interpreters, or "terps" as they are known to foreign troops, in the hope of securing an American visa after at least one year of service.
But they fear that when US and combat troops from other Nato allies withdraw in 2014, they will be targeted by the Taliban.
Many are now racing to get visas and move to the United States before then, although a backlog of paperwork at the American embassy in Kabul threatens to delay applications.
At US Combat Outpost Monti in mountainous Kunar province near the Pakistani border where he lives and works, Yousaf said he was considered an "infidel" by the Taliban and its sympathisers.
"They say the people who work with the Americans should be killed," he said.
As he and his fellow interpreters shared their stories over an Afghan feast of lamb korma, chicken pilau rice and round, flat bread, the risks they take became clear.
"I'm not happy in Afghanistan, it's a dangerous place. Everybody knows that," said Mohammad Islam, a 23-year-old with gelled, spiky hair who wore a tight T-shirt and spoke English peppered with slang.
Another interpreter, Salim Shah, 35, quit his carpet business to work as a translator and now dreams of one day setting up a rug shop in New York.
"If I didn't become an interpreter, it (would be) too difficult to go to foreign countries," he said.
The United States admitted it is grappling with a surge of visa applications from interpreters and other Afghans.
A US government official speaking on condition of anonymity said 850 Afghan interpreters who worked with the US armed forces or the embassy in Kabul had received special immigration visas as of mid-July, the latest figures available.
But under the Afghan Allies Protection Act, passed in 2009 to boost the number of visas for Afghans who have come under serious threat for working for the US government, no visas had been issued and 2,297 cases were pending.
The official said the process was "time intensive" but that efforts were being made to streamline applications.
He confirmed the US embassy in Kabul had received petitions to speed up procedures.
"We recognise that we have a special responsibility to Afghans who have worked for us," he told AFP.
"At the same time we're committed to ensuring that Afghan recipients of special immigration visas, like all those who enter the United States, do not pose a threat to the security of the United States."
He added: "We urge applicants with immediate security concerns to raise such concerns with security personnel where they work."
Yousaf has nearly finished his paperwork but remains unconvinced he will escape Afghanistan within three years.
"Right now there are so many interpreters in Afghanistan trying to get a visa. It's very hard," he shrugged. "It's up to the US government."
He and his colleagues have seen numerous interpreter friends killed or wounded and had plenty of their own close shaves.
During an operation in Kunar last year, the Humvee truck behind Yousaf's vehicle was destroyed by a roadside bomb, killing five US troops inside. "God saved me," he said.
US troops pay tribute to their courage and competence. One soldier who works with them, Private First Class Joshua MacIntyre, said they had earned the right to a visa.
"I trust them," he said. "It's very easy to work with them."But it is not only out on missions that interpreters feel unsafe.
Although his wife and five children live in the same province, Yousaf said it was too dangerous to go alone by car when he goes home on leave, preferring to fly or travel with the Afghan army.
"Maybe they will kill me or ambush me," he said of the insurgents. He fears even going to the local bazaar close to the outpost, instead asking Afghan labourers on the base to pick up his groceries and favourite chewing tobacco.
The Taliban regularly carry out threats to kill Afghans working with coalition forces, but the interpreters hope their troubles will be worth the risk.
Yousaf likes the sound of California, but has no fixed plans beyond reaching the "golden state."
"America is the land of opportunity, I will find something there," he said.