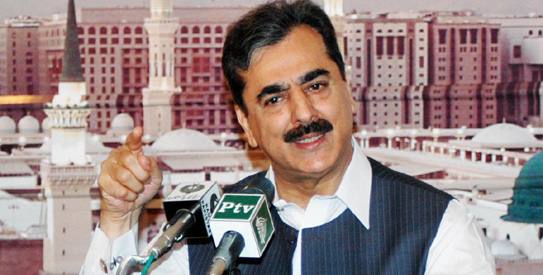 LAHORE: A constitutional petition has been filed in the Lahore High Court, seeking action against the prime minister for allegedly committing high treason by continuously defying orders of the superior judiciary and attempting to subvert the Constitution.
A local lawyer, Allah Bakhsh Gondal filed the petition in public interest through his counsel A.K. Dogar. He contended that Prime Minister Yousuf Raza Gilani by deliberate defiance of the Supreme Court orders and repeated attempts to subvert the constitution had forfeited the sacred trust and ceased to hold the office by automatic operation of provisions of articles 5, 6 and 92(2) of the constitution.
The federal government, he said, started confrontation with the SC after the court struck down the National Reconciliation Ordinance (NRO) in December 2009.
He pointed out that the government had not complied with the directions repeatedly given by the court to write letter to Swiss authorities regarding reopening of $60 million corruption cases against President Asif Ali Zardari.
He said the PPP leaders gave a strike call in Sindh and President Zardari's right hand, Zulfiqar Mirza, publicly attacked the SC judges. The PPP also called a general strike and protest day across the Sindh against the SC judgment removing Justice Deedar Hussain Shah (retired) from his office of NAB chairman.
The petitioner further said the prime minister had taken no step to implement a Lahore High Court order wherein President Zardari was expected to dissociate himself from political office at the earliest. He said the LHC order also desired a halt to use of the presidency for political activities but the PM had not taken any action in this regard too.
The petitioner-lawyer submitted that the PPP government had come out in the open to threaten the country by its Sindh Card which was a clear case of subversion of one of the pillars of the constitution. He further said the president of Pakistan had assumed and exercised absolute powers and the prime minister was a mere puppet in his hand. "Thus the dictatorship of Mr Zardari in garb of democracy has subverted the third pillar of the state, the parliament."
The petitioner requested court to declare that the prime minister had deliberately defied and repeatedly brushed aside orders of the SC and had in bad faith tried to subvert the constitution. Furthermore, he asked the court to also declare that the PM had become disqualified to hold his office.