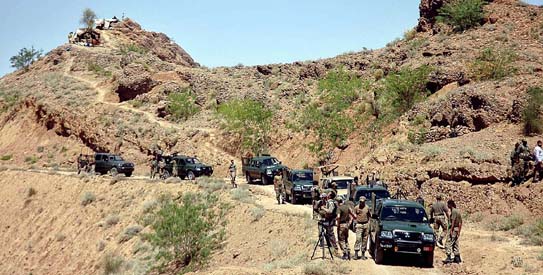 MIRAMSHAH: The Taliban leadership in North Waziristan has reacted sharply to a recent bomb attack on a convoy in the area, saying the US agents — not the Taliban militants —had attacked the military personnel to achieve their own objectives.
Three security personnel were killed and 14 others injured on Tuesday when the convoy was attacked with an improvised explosive device. Security forces, believing militants holed up in a local hospital were behind the strike, demolished the facility on Wednesday.
On Friday, the Taliban Shura met at an undisclosed location. A one-page statement released after the meeting, which was presided over by Hafiz Gul Bahadur, said: "Mujahideen Shura of the North Waziristan gives last warning to those elements who carried out the improvised explosive device attack and opened fire from main bazaar a few days ago. If these people don't stop their activities then action will be taken against them."
The Shura asked the Taliban and their supporters to kill those elements who were involved in criminal activities and said the Taliban would own responsibility for their action.
Gul Bahadur said that Mujahideen could never commit such acts, adding the US agents were involved in these activities to serve its interests.
He said the Taliban had never used bazaars and other public places for attacks and had no plan to do so in future.