KARACHI: Eighteen-year-old Farah Vohra is the only girl in Pakistan's five-member special swimming team leaving for Athens on Monday to compete in the Special Olympics World Summer Games (June 25 to July 4) there.
Vohra, who was born with Down's Syndrome, will compete in the 25 metre backstroke and 25metre freestyle categories. Her coaches are very optimistic about her success at the Games.
"She is training very hard for two hours, five days a week, Monday to Friday. She has a good chance of winning, too. I have in my experience worked with special people and seen them beat normal folks in regular competitions," said her coach Mohammad Ramzan Zafar.
Meanwhile, her assistant coach Jasmine Sharif, herself a winner of two gold medals in the 2007 Games in Shanghai, China, said that she can clearly see a winner in the girl.
"Farah is very obedient and follows all our instructions to the best of her ability. So in my heart, I feel that she will return with a medal. The rest only God knows best," she added.
Having won bronze medals in the 50 metres race and softball events in Ludhiana, India, in 2009, and gold, silver and bronze in the Karachi City Games last year, Farah herself is no stranger to victory, and is quite upbeat about the whole competition. Having completed one strenuous training session, she had no problems changing out of her cheerful green Special Olympics of Pakistan (SOP) T-shirt again to dive back into the pool in order to pose for the photographers.
"I have been calling up all my relatives and friends to come and meet me before I leave. I want everyone to pray for me, too. In return, if I win, I will give a treat to everyone," she announced.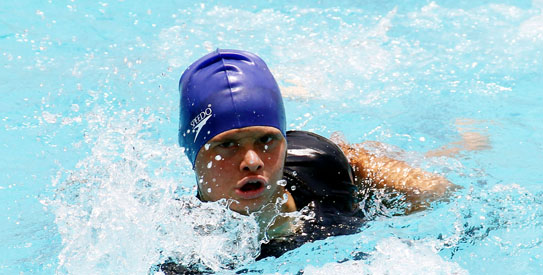 SOP provides year-round sports training and athletic competitions in a variety of Olympic-type sports for children and adults with intellectual disability. It also gives the individuals continuing opportunities to develop physical fitness, demonstrate courage, experience joy and participate in a sharing of gifts skills and friendship with their families, other Special Olympics athletes and the community.
Not a part of the Pakistan Olympics Association, SOP depends mostly on donations and annual fundraisers. The Karachi Club here have offered their sports facilities free of charge to SOP for training of the special sportspersons.
Initially 15 swimmers, six girls and nine boys, were announced as probables for the special swimming team of which only four boys and one girl was selected.
The team also includes Saadullah Asad (25 m breaststroke and freestyle), Ahsan Ali (25 m backstroke and freestyle), Hasnain (25 m breaststroke and freestyle) and Amir (25 m backstroke and freestyle). Besides competing in the categories mentioned, the four boys will also compete in the 25 metres relay.
"Our coaches Sir Zafar and Miss Jasmine along with Miss Kausar, who is in charge of sports at the Karachi Club where I trained for the Games, and Miss Shahida Haider have worked very hard with us. I want to do them and my country proud by bringing back a gold medal in swimming," Farah said, while teammate Saadullah clapped.
"This is a team in every way. They share helpful tips and support and cheer for each other all the time," said Farah's mother Nilofer Vohra, who said they didn't even know how to bring up a special child when informed by the doctors that their baby girl had Down's syndrome.
"She didn't start walking when other children her age did and spoke her first word at the age of five. But look at her now," she said gesturing to the young champion with pride.
"It was at the age of five that we got her admitted to the pre-nursery section at the International School of Studies, one of two such schools in Karachi that believe in inclusive education where they allow two or three special children to study in the same class as normal students," said her father Farooq Vohra.
"Today, she has completed her Matric and the school. Following the concept that special people are also a part of society, has offered us to either let her continue with her studies or work as a teacher's assistant at the same institution," added the proud father.
About how Farah got involved in sports, her mother provided: "Meanwhile our friends suggested that we get her registered with SOP, which we did when she was 10 years old."
Farah was introduced to several special activities by SOP and after sprinting and playing softball, she also learned how to swim at age 12.
"She is a very active child and gives everything she does her all," said her mother. "Now my only concern is that she is getting a little dark by staying in the sun so much," laughed the mother.
The Special Olympics World Summer Games take place every four years. At the last games in 2007 in Shanghai, China, team Pakistan won 15 gold  medals, 20 silver medals and 16 bronze medals. Team Pakistan athletes this year will be competing in eight sports—athletics, aquatics, badminton, basketball, bocce (a ball game for low ability athletes), cycling, football and table tennis.
Usually a sportsperson who takes part in the Games cannot go again to compete in the same sport that they have competed in earlier but there is the option for them to change their sports and go back to compete in something else.
The Pakistan special contingent leaves for Athens in the wee hours of Monday.