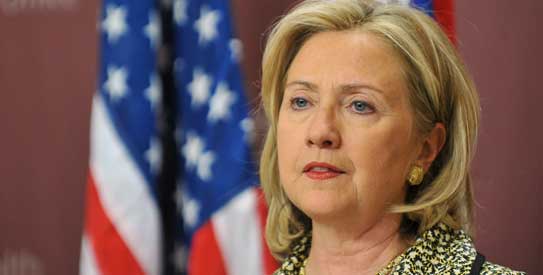 ISLAMABAD: Political and military leaders of Pakistan and the United States will sit face-to-face on Friday in an effort to work out fresh 'rules of engagement' for salvaging their troubled relationship caused by deep-rooted mistrust and differences over fighting militancy.
US Secretary of State Hillary Clinton will be joined by Joint Chiefs of Staff Committee Chairman Admiral Michael Mullen at the make-or-break talks with Pakistan's civilian and military leadership.
There appears to be a standoff on the question of unilateral strikes by the US against militants' hideouts on Pakistani territory. The two countries have publicly taken maximal position on the issue, but Islamabad is likely to persuade Washington to forgo the option of unilateralism which is seen here as humiliating for the country.
Both sides have taken positive steps ahead of the talks to improve the atmosphere.
Ms Clinton's visit comes after deep introspection and a serious reassessment of ties by both sides.
Last week Pakistan returned the wreckage of the helicopter which had gone down because of technical problems during the May 2 Abbotabad raid and, more significantly, renewed its resolve to act decisively against terrorists and their hideouts. The Defence Committee of the Cabinet, which met on Wednesday to discuss the weekend attack on Navy's Mehran base in Karachi, resolved to use all means at the country's disposal to firmly deal with the problem.
On its part, the US started pulling out its troops based in Pakistan largely for training purposes on Pakistan military's request -- something demanded by the army immediately after the embarrassing Abbotabad incident.
The visit by US Senate Foreign Relations Committee Chairman Senator John Kerry, who had held icebreaking talks here last week, was followed by two official delegations -- one led by Special Envoy for Afghanistan and Pakistan Marc Grossman and the other by CIA Deputy Chief Mark Morrell.
The visits by the two delegations were to lay groundwork for Ms Clinton's visit and to enable her to have discussions in the "right context and with right understanding".
Notwithstanding Pakistan's commitment to going the whole hog against terrorism, Secretary Clinton still appears to be sceptical about the assurances already conveyed to Washington.
Speaking in Paris before embarking on the trip to Islamabad, she said Pakistan had not always acted decisively and that it was time to meet Washington's "expectations". In somewhat reassuring words for her hosts in Islamabad, she reiterated US commitment to maintaining strategic relationship with Pakistan.
In Islamabad, which has maintained complete silence about the visit, Prime Minister Gilani met Foreign Secretary Salman Bashir and Minister of State for Foreign Affairs Hina Rabbani Khar to work out the strategy for the discussions.
In a statement issued after the meeting, Mr Gilani was quoted as saying: "Pakistan believes in peaceful coexistence and desires to strengthen friendly relations with the global community in the interest of international peace and prosperity."
He sought international support for Pakistan's fight against terrorism.