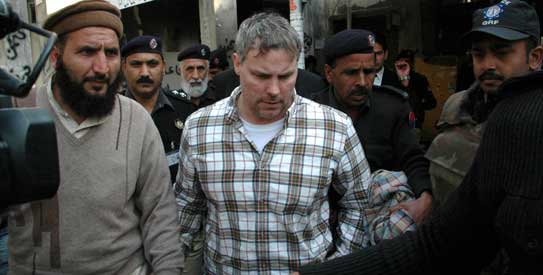 LAHORE: A petition challenging CIA contractor Raymond Davis' release was filed in the Lahore High Court (LHC) on Thursday, DawnNews reported.
The petition, filed by Barrister Iqbal Jafri, stated that the families of Faizan and Faheem were pressured by the government into pardoning Davis.
The petitioner stated that Davis' pardoning and immediate release was in violation of the law.
The petitioner requested the court to invalidate the decision and direct the authorities to initiate proceedings against "those who brought about Davis' release".
On Wednesday, Davis was released and quickly flown out of Pakistan after heirs of the two youths he had shot dead on January 27 told a local court they had accepted blood money.
The Lytton Road police had registered a case against Davis on charges of killing the two Pakistani citizens at downtown Qurtaba Chowk in Lahore. Two traffic wardens had chased down the suspect who pleaded he had killed the bike-riders in self-defence after they had tried to rob him.
The killings had rocked Pakistan and strained ties between Islamabad and Washington. The US pressed for diplomatic immunity for Davis, leading to some clear and many ambiguous responses from officials in Pakistan. Shah Mehmood Qureshi, who was the foreign minister at the time the incident took place, stated that the arrested American didn't enjoy diplomatic immunity.