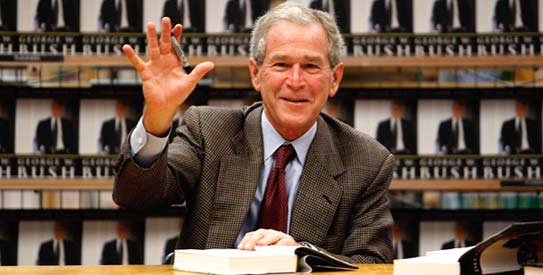 WASHINGTON: Former US president George W. Bush has written in a new memoir that he became convinced Pakistan would not act against extremist militants and all but admitted he ordered drone strikes on its soil.
In his book "Decision Points" published Tuesday, Bush said he had "complex" relations with Pakistan and its former military leader Pervez Musharraf, who pledged to support the United States after the September 11, 2001 attacks.
Bush acknowledged that Pakistan "paid a high price for taking on extremists" and said its forces were successful for several years in targeting al Qaeda militants crossing the porous border with Afghanistan.
But Bush said: "Over time, it became clear that Musharraf either would not or could not fulfill all of his promises."
"Some in the Pakistani intelligence service, the ISI, retained close ties to Taliban officials. Others wanted an insurance policy in case America abandoned Afghanistan and India tried to gain influence there," Bush wrote.
Bush said he grew frustrated by late in his presidency. He recalled a meeting with US special forces returning from Afghanistan in which one troop pleaded with him, "We need permission to go kick some ass inside Pakistan."
Bush said he could not reveal details of his decision but noted that the Predator, an unmanned predator drone, "was capable of conducting video surveillance and firing laser-guided bombs."
"I authorized the intelligence community to turn up the pressure on the extremists. Many of the details of our actions remain classified. But soon after I gave the order, the press started reporting more Predator strikes," he wrote.
President Barack Obama has intensified the drone attacks, which most US policymakers consider an effective way to kill senior al Qaeda leaders without risking US troops.
But Pakistan has publicly protested the drone attacks, calling them violations of its sovereignty that kill civilians and risk worsening anti-US sentiment. Some US scholars have questioned the legality of the strikes, saying they amount to extrajudicial killings.
Musharraf raised controversy in 2006 when the United States threatened to bomb Pakistan "back to the Stone Age" if it did not lend support after the September 11 attacks.
In the memoir, Bush said Colin Powell, then secretary of state, called Musharraf on September 13, 2001 and told him he "had to decide whose side he was on" and gave him "non-negotiable demands" including breaking relations with the Taliban and denying al Qaeda havens inside Pakistan.
Bush said that Pakistan's cooperation was impeded by its "obsession" with historic rival India. Both Bush and Obama have sought warmer relations with the world's largest democracy.
"In almost every conversation we had, Musharraf accused India of wrongdoing," Bush wrote.
Musharraf, who is touring the United States as he tries to stage a political comeback, insisted Tuesday that he had evidence that Indian intelligence agents met with Pakistani separatists who came via Afghanistan.
"If I'm allowed to be very, very frank, India's role in Afghanistan is to create an anti-Pakistan Afghanistan," Musharraf, who stepped down in 2008, said at the Council on Foreign Relations in New York.
Musharraf said that India's consulates in the southern cities of Kandahar and Jalalabad "have no other role" except "creating trouble in Pakistan."
"Why wouldn't the consulates be somewhere in the north facing Uzbekistan and Tajikistan?" Musharraf asked.
India also has consulates in Mazar-i-Sharif in the north and Herat in the west. The Indian embassy in Kabul was targeted in an attack last year claimed by Taliban militants.
India, not a traditional donor, has committed 1.3 billion dollars to Afghanistan since the fall of the Taliban regime and is building roads, power lines and a new parliament building.
Musharraf also said that Pakistan "is trying its best" to fight Taliban and al Qaeda leaders.
"Why is the responsibility of their coming into Pakistan not the fault of Afghan forces and US forces and coalition forces?" Musharraf said.
"It should be shared at least 50-50 — we are at fault, you are also at fault," he said.