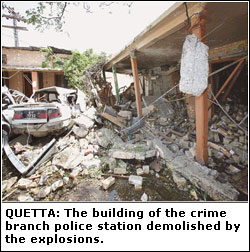 QUETTA, Aug 10: A detained man was killed and three policemen and three other people were injured when the arsenal of the crime branch police station in Quetta blew up early on Sunday morning.
"The police station was almost completely destroyed by a series of powerful explosions that rocked the provincial capital," official sources said.
Officials claimed that an electrical short-circuit had caused a fire and the subsequent explosions, but a senior police officer told Dawn that a rocket had hit the roof of the arsenal.
"We are investigating the incident, keeping all aspects in mind," city police chief Mohammad Akber said.
According to sources, a powerful explosion took place on the roof of the police station in the cantonment area at around 4.30am. The explosion caused the fire which engulfed the store of weapons and ammunition.
Rockets, explosives, bullets and other ammunition started exploding, causing panic among the people of the area. Security personnel deployed at various entry points in the cantonment took positions.
Parts of exploding rockets and other weapons fell over a large residential area around the police station. "The explosions continued for more than an hour," said Mohammad Riaz, a resident of the area.
The fire spread to the staff barracks and the lock-up of the police station, killing Amir Hamza Qalandrani, detained on the charges of kidnapping for ransom.
Three policemen and three detainees were injured when the lock-up and other portions of the police station crumbled. Around a dozen vehicles were gutted.
Fire-brigade brought the blaze under control in two hours and stopped it from spreading to the residential area of the police station. Families living in the colony were evacuated.
The sources said some people held in the lock-up tried to escape but they were re-arrested.
The bungalows of some army officers were also damaged.