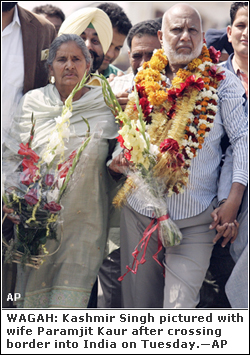 WAGAH, March 4: An Indian man freed by Pakistan after languishing on death row for suspected espionage for 35 years was given a hero's welcome when he returned home on Tuesday.
Kashmir Singh, 61, waved to Pakistani journalists and well-wishers before walking across the border crossing here to be greeted by his relatives. "It is a new birth for me after being released from the Pakistani jail," he told reporters at the border post before crossing to the Indian side, where his wife and children were waiting.
"The credit of my release entirely goes to (Human Rights Minister) Ansar Burney who during his visit in the jail spotted me, put up my case before the Pakistani government and procured my release. For me Ansar Burney is an angel. I have not enough words to thank him."
His emotional wife Paramjit Kaur told reporters: "I am very, very happy to see this day. When we spoke last night, he told me he was just waiting to come back home."
An excited group of well-wishers garlanded him and showered him with rose petals as he met his family briefly before being taken away by the Border Security Force and intelligence agencies for a 'debriefing'.—AFP
Our Staff Reporter in Lahore adds: Talking to journalists after his release here, Kashmir Singh urged the governments of Pakistan and India to exchange prisoners.
As the erstwhile Indian prisoner crossed the Wagah border on Tuesday afternoon, he wept and looked skyward with gratitude, pausing briefly to wave at the Pakistani government officials who had helped secure his release.
The federal minister for human rights told reporters that Indian High Commissioner Satyabrata Pal had recently handed over a list of around 100 missing Indian prisoners of war in Pakistani jails and the government was working to resolve the issue.