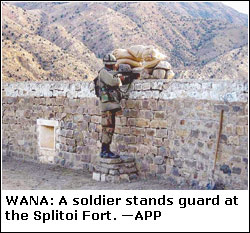 TANK, Jan 26: Jet fighters and ground forces bombed suspected locations of militants in Touda Cheena and other parts of the South Waziristan Agency on Saturday, killing one tribesman and wounding eight others, sources said.
The Inter-Services Public Relations (ISPR) claimed that troops had started the mopping up of militants' strongholds in Laddah. A statement said that security personnel had also cleared the Nawazkot area of militants.
The security forces backed by helicopter gunships and tanks had launched an offensive in the Mehsud-dominated areas on Tuesday to purge the area of militants. Infantry units also took part in the operation.
Locals said that two jet fighters bombed the militants' positions in the Touda Cheena area in Makin in which one person was killed and eight others injured. They claimed that the dead and wounded were non-combatants.
Sources said that local people had recovered five bodies from Makin and Khaisur areas on Saturday. Three bodies of soldiers were also found in the Spinkai Raghzai area.
The bodies were shifted to Jandola Fort.
Meanwhile, elders of the Mehsud tribe are likely to proceed to Peshawar from Tank on Sunday to hold talks with the NWFP Governor, Owais Ahmad Ghani.
Sources said that a 15-member committee was set up in Tank on Saturday to initiate efforts for a ceasefire between the security forces and the militants in South Waziristan.