ISLAMABAD, July 3: Paramilitary Rangers and riot police fought a daylong running gunbattle with hundreds of heavily armed and well-entrenched militants around their stronghold of Lal Masjid as a six-month-long standoff between mosque's radicals and the authorities exploded into a major clash on Tuesday, leaving at least 10 people dead and more than 150 injured.
Dozens of the injured suffered multiple bullet wounds, and the condition of some of them being critical, doctors feared the death toll might rise.
It was perhaps the worst, and the bloodiest, incident in Islamabad's history as never before such a large number of armed militants had taken on the authorities — and that too in the heart of the capital.
The trouble started around 11.30am with some madressah militants trying to occupy a nearby government building, and within no time a fierce clash broke out between the armed seminary students and security troops. Sporadic clashes had continued till past midnight when unconfirmed reports suggested a massive security operation to sweep the Lal Masjid of armed militants, raising the possibility of more armed clashes and larger casualty.
A high-level meeting of top government, security and intelligence officials chaired by President General Pervez Musharraf reviewed the situation as clashes continued in and around Lal Masjid. It was not clear whether a firm decision had been taken about a full-fledged operation. However, Information Minister Mohammed Ali Durrani severely criticised the Madressah and mosque management and held them directly responsible for the deaths and destruction, and indicated that they alone would be responsible for any further trouble.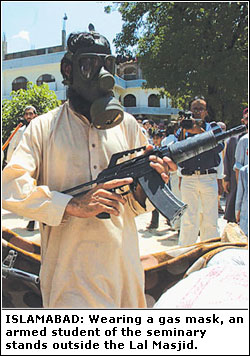 But even before that, by the time the night fell on Islamabad, a paramilitary soldier, a photojournalist, four students of the Islamic seminary and a number of passers-by were dead, almost all of them being victims of high velocity bullets. Among those injured during the clashes were several members of the Rangers and police, a number of journalists, dozens of Madressah students and many local residents who were caught in the crossfire.
As sporadic clashes continued throughout the day, ambulances belonging to the Capital Development Authority (CDA), Edhi Trust and other relief agencies kept shuttling between the venue of the pitched battle and various hospitals. A number of fire-fighting trucks were also in the area, but despite the presence of massive security force, they were unable to penetrate through the crowd of armed Islamic students, who set the nearby building of Environment Ministry and a government's Estate Office on fire, and set ablaze almost all the vehicles parked there.
Even though the Rangers had remained deployed in around Lal Masjid and the adjoining women's seminary, Hafsa, for several days, Tuesday's clashes gave no sign of a planned operation. Amid contradictory versions about the beginning of the trouble given by rival sides, several eyewitnesses told Dawn that violence started after a large number of Lal Masjid students tried to storm the Estate Office and, during the scuffle, snatched a number of assault rifles from policemen posted there. Soon after, several hundred students of the women madressah came out and marched up to the government offices in the area to register their protest against the authority's plans for a security operation.
In the meantime, paramilitary troops were rushed in to intensify patrolling. Tempers had already started to flare up. As more provocation came from inside the mosque in the form of rocks and bricks targeting the patrolling Rangers, the riot police responded with heavy tear-gassing. The retaliation came from inside the seminary in the form of dozens of rounds from automatic guns. One such bullet hit a Ranger's lance naik, Mubarik Hussain, who died in hospital. Within no time, the Rangers started firing back with automatic guns, with the area between the nearby residential quarters and a few government buildings and Lal Masjid looking like a battled-ground.
As several people were injured on the both sides, including many girl students, better sense prevailed for a while, with security troops withdrawing to their nearby camps, or in the sidelanes. This proved counter-productive as hundreds of supporters of Lal Masjid joined in from two nearby mosques. The armed seminary students were freely roaming the streets, not only flashing their Kalashnikovs and other automatic weapons with straps of magazines and grenades wrapped around their waist, some of them were even wearing gas-masks with many other carrying home-made petrol bombs in both their hands.
As the madressah students tried to gain more ground in the area and
started to gradually move in two directions on the main road, Rangers and riot police made a forceful comeback, this time with larger force. Soon they started firing tear-gas shells and bullets. The madressah militants, who had taken position on the mosque's roof and behind several trees, returned fire at will. So abrupt was this second round of clash that many journalists and local residents and onlookers were caught off-guard. Several of them found themselves in the midst of the cross-fire.
Photojournalist Javed Khan fell victim to a flying bullet and died before any help arrived. Another cameraman, Israr Ahmed of the CNBC, was hit three times by automatic gunfire. Till our going to the press, doctors were trying hard to save his life. Another senior journalist, Absar Alam of Geo, was injured when he was hit by a stray stone, but his condition was stable.
As clashes continued, emergency was declared in three main hospitals where doctors and paramedical staff remained busy throughout the day, trying to save lives with whatever limited resources were available to them.
Late in the evening, a number of members of the National Assembly form the religious groups and some other people tried to mediate, and even attempted to persuade Lal Masjid's top cleric Maulan Abdul Rasheed Ghazi and others to back down, but without any success. The Lal Masjid brigade that had been on a path of defiance since January, when its members along with Hafsa girls had occupied a nearby children's library and later abducted a number of policemen and private citizens, was by now giving out a clear message that they were prepared to fight it out, even if it meant heavy casualty on both sides.
There are reports that the in-charge of Lal Masjid, Maulana Abdul Aziz, and his younger brother Maulana Abdul Rashid Ghazi had gone underground before the clash started.
Tension was high in the area till the filing of this report as armed and baton-wielding students of Lal Masjid who were reinforced by students of other seminaries continued to occupy the road in front of the mosque.
According to interior ministry, some 125 students of Jamia Hafsa came out of the mosque and snatched weapons and walkie-talkies from four police personnel deployed at the Estate Office building. The police force fired tear-gas shells to disperse the militants, but the students opened fire on police and Rangers.
The ministry issued a press release saying the government had shown maximum restraint to prevent injuries, particularly to girl students.
It was observed that the Lal Masjid brigade was equipped with 3mm riffles, Kalashnikovs, 222 rifles, hand-grenades, petrol bombs, tear-gas shells and light weapons.
During the whole episode, hardline ulema of Lal Masjid continued to give instructions to the students on loudspeakers and warned the government that suicide attacks would be carried out to avenge attacks by security forces.
AFTER a meeting of the federal cabinet, the Islamabad administration imposed a curfew around Lal Masjid on late Tuesday night.
At around 2am, army troops from 111 Brigade were deployed around the Lal Masjid area, indicating that an operation against the militants was imminent.
All hospitals in the twin cities have been put on alert, doctors have been called on duty and ambulances readied to shift casualties.