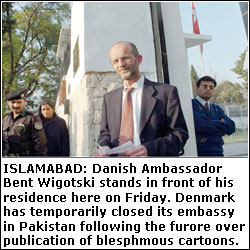 ISLAMABAD, Feb 17: Pakistan on Friday recalled its ambassador from Denmark to convey its displeasure with the Danish government's handling of the issue of publication of blasphemous cartoons by a newspaper, informed sources told Dawn. Pakistan also formally informed the Danish government about its decision to withdraw its ambassador as a mark of protest.
The decision, it is learnt, was taken at a meeting of the parliamentary party of the ruling coalition here on Thursday, which was also attended by Prime Minister Shaukat Aziz.
The meeting noted that while some European countries and the United States had staunchly condemned the publication and regretted the hurt it had caused to Muslims the world over, Denmark's response remained wishy-washy. There has been no proper apology or assurance that such acts would not be repeated.
However, Pakistan's embassy in Copenhagen would continue to function without the ambassador, sources said. Pakistan's Foreign Office remained tight-lipped on the issue and insisted that the ambassador had been called back for consultations.
The Foreign Office on Friday announced in a one-sentence statement: "Pakistan's ambassador in Copenhagen, Mr Javed A. Qureshi, has been called to Islamabad for consultations."
When Dawn asked the Foreign Office spokesperson Tasnim Aslam if the ambassador had actually been recalled to register protest with the Danish government, she was non-committal. "The statement is very clear," is all she said.
On the nature of consultations, Ms Aslam said Pakistan's ambassador would give his assessment of the situation that developed after the publication of the blasphemous cartoons in Denmark.
Ambassador Javed Qureshi is expected to report back in a couple of days but no dates are confirmed yet.
Meanwhile, Denmark closed its embassy for public dealings in Islamabad on Friday.
When this correspondent called the Danish embassy in the evening, a recorded message was running on the answering machine that said: "The embassy chancery is temporarily closed till further notice. In urgent counsel of matters, please call the German Embassy at 2007200 or 2279430."
The Danish move comes amid emphatic demands by the opposition and the public in countrywide protests that Danish ambassador be expelled from the country and Pakistan's envoy in Copenhagen be recalled. Also, it follows rallies in Islamabad, Peshawar and Lahore that turned violent.