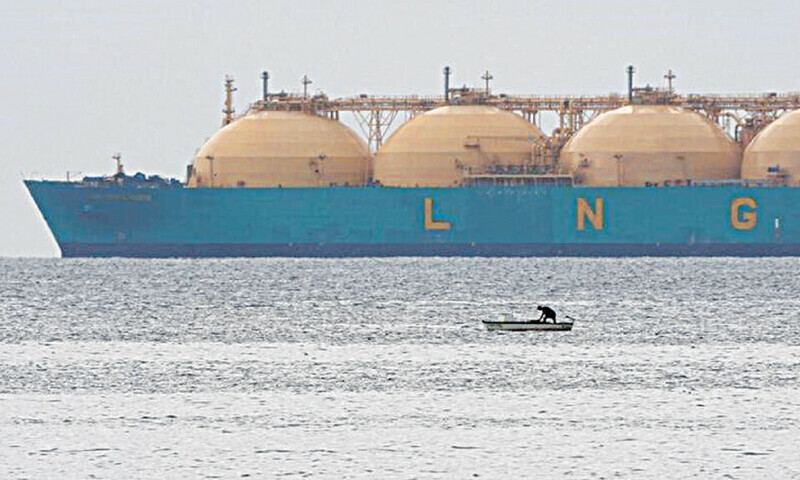 ISLAMABAD: Pakistan on Monday floated an urgent international tender for a Liquefied Natural Gas (LNG) cargo in the first part of January to meet anticipated peak winter shortage in the residential sector.
The tender, issued by the state-run Pakistan LNG Limited (PLL) with a four-day notice, asked bidders to submit technical and financial bids by Nov 24 for a standard LNG cargo with targeted delivery on Jan 8-9, and the bids would be opened the same day.
Last month, after about a year-long gap, Pakistan received three bids for two additional LNG cargoes for peak winter demand at a significantly higher premium over the prevailing spot market.
The government accepted two lower-evaluated bids to minimise winter gas shortages following a decline in domestic gas production and to maintain load management at a level similar to that experienced in the winter of the previous year.
LNG trader Trafigura Pte Ltd submitted two bids for the Dec 7-8 window and the Dec 13-14 window at $18.39 per million British thermal units (mmBtu) and $19.39 per mmBtu, respectively. On the other hand, Vitol Bahrain offered a bid price of $15.97 per mmBtu for the Dec 7-8 delivery window.
Bids due by Nov 24, targeted delivery on Jan 8-9
The PLL then declared Vitol's $15.97 per mmBtu bid for Dec 7-8 and Trafigura's single bid of $19.39 per mmBtu for Dec 13-14 as the lowest evaluated bids.
For reference, the Oil and Gas Regulatory Authority (Ogra) set the basket RLNG transmission stage price for the current month at $11.86 per mmBtu for SNGPL and $11.47 for SSGCL based on the $9.76 per mmBtu average LNG price delivered ex-ship (DES) for nine cargoes.
While Trafigura's bids are expensive; even Vitol's lowest evaluated bid of $15.97 per mmBtu is almost double Qatar Gas's second long-term contract price and over 60pc higher than the average basket price of the existing nine LNG cargoes supplying 900 million cubic feet per day (mmcfd).
Qatar Gas supplies about five cargoes per month at 13.37pc of Brent ($10.7 per mmBtu in September) and three cargoes at 10.2pc of Brent ($8.17 per mmBtu), while ENI supplies one cargo at 12.14pc of Brent ($9.72 per mmBtu).
An official said Vitol bid at a premium of more than $2 per mmBtu or almost 13pc higher than the prevailing spot rates in the international market, apparently because of the country's credit rating and risk factor.
The bids, nevertheless, revive traders' interest in the Pakistan market after about 12 months, as they had shied away due to Pakistan's low credit rating and foreign exchange challenges.
In July this year, PLL's attempt to test the international spot market for additional LNG supplies in peak winter went futile when only one bidder turned up with offers at a significant premium, making the price unviable for local consumers.
It was said at the time that the tender had provided a price discovery that would help secure some distressed cargoes from Azerbaijan's Socar under a G2G agreement, but no such offer came through.
In response to PLL's tender in June for two cargoes in Jan and one in Feb 2024, Trafigura Pte Ltd had submitted two bids — $23.47 per mmBtu for the Jan 3-4 delivery window and $22.47 per mmBtu for the Feb 23-24 window. Both bids were about 26-29pc higher than prevailing prices in the LNG spot market at the time.
Published in Dawn, November 21st, 2023
Follow Dawn Business on Twitter, LinkedIn, Instagram and Facebook for insights on business, finance and tech from Pakistan and across the world.