It never ends. Day after day after day.
The bombardment, the gunfire, the air attacks, the massacres and, following them, images and videos of bloodied, lifeless corpses strewn on roads, buildings reduced to rubble, shell-shocked men and women, having evaded the bombs, staring at the world through lifeless eyes, mothers peering over dead bodies of children trying to recognise if their child is amongst those found dead…
There's more, so much more: videos of wide-eyed men and women and children trembling after a bomb attack, of mothers hopelessly staring at the dead bodies of their children splayed over their laps, of statements from doctors in Gaza reporting that hospitals are no longer functional due to lack of clean water and fuel, of men and women crying, hugging each other as day after day, more and more of them are wiped out by Israeli forces and their homes are turned into wastelands.
The images are endless, filtering on to social media every day as the people of Gaza plead for justice. They are heartbreaking beyond measure and so spiritually debilitating that they haunt you just when you're about to sleep, or sitting down to have a meal in the safety of your home, or playing with your children.
Stars have the power to bring about change and influence millions of people who follow them on social media. But when speaking out on issues such as the Israeli genocide in Palestine can come at a very heavy career cost, are they willing to take a stand?
How can one truly be happy while so many are dying every day, obliterated decisively despite repeated calls for a ceasefire, aided and encouraged by some of the most powerful countries in the world?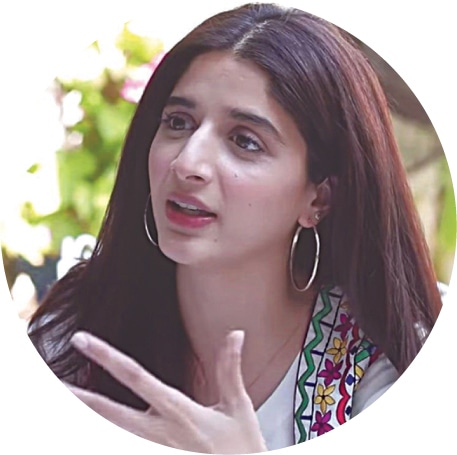 And how can one not feel the need to do whatever is possible; speaking out on social media, taking part in protests, making donations for the war victims or, simply, kneeling down in prayer?
Pakistan's entertainment celebrities have been feeling the same mix of emotions too.
KEEPING THE CAUSE ALIVE
In a recent tweet, actor Ushna Shah commented on how the destruction of Gaza is ceaseless, sanctioned by global superpowers, with mass media spreading disinformation on the ongoing war.
"Stop calling on Muslim superpowers or the UN for help, just stop," she wrote. "What is needed is a global revolution like never before in human history, led by ordinary people. Unless we keep the discourse going, unless every single person on the right side unites and commits, there is ZERO hope. If there was ever a time to be angry, aggressive, woke & have unbreakable resolve, it is now. Otherwise, watch them finish … the kids are being targeted. All of their bloodlines will soon finish."
Ushna can be singled out as one of the few stars within Pakistan who has been intent on keeping the discourse on the Israel-Palestine conflict alive. Does she think that her multiple Tweets every day can actually make a difference?
"Social media can and is making a change," she says. "Of course, social media activism is nuanced and in many ways it can get lost because Western media is so biased and all other media is controlled, which can lead to so much misinformation.
"And even though social media itself is also controlled, with people being 'shadowbanned' and their accounts getting cancelled, it is the only mode of communication the world truly has right now with this genocide and it is helping spread a lot of awareness."
She continues, "For one, it's telling you where the world stands. If you look at Western media, where they are posting a very biased stance and the headlines don't go with reality, it's all very one-sided. However, when you read the comments underneath these news posts, they tell you exactly where the world lies, with people calling them out.
"In another way, it's helping educate people. So many people who grew up in Zionist families have now changed sides because they see the reality for what it is. They had absolutely no idea. So social media definitely helps educate people and spread awareness. It is the tool we have for communication and it's imperative that we use it."
Host and media personality Anoushey Ashraf, who has also frequently been sharing news posts related to Gaza on her Instagram, observes, "How can we say that making noise on social media doesn't help? I am reminded of a time when I was young and my father used to take me to the  jaloos [procession] on the 10th of Muharram.
"I would ask him what the point was of going? And he told me that this was the least that we could do, to show up in numbers, make noise and keep the cause alive. That's what we do when we keep talking about the ongoing genocide in Gaza: we don't allow the cause to die."
Actor Nadia Afgan similarly talks about the importance of continuing to post, pray, donate if possible. "We simply can't ignore what is happening," she points out.
Actor Osman Khalid Butt, who has aggressively been Tweeting on behalf of the Palestinian cause, says, "We're up against this huge propaganda machine run by Israel which is constantly disseminating disinformation through social media. They have dehumanised an entire group of people on the basis of their skin colour and built a narrative where their lives don't matter, their pain doesn't matter.
"Social media allows us to respond, not just with assertions of our faith, but with the aid of actual facts and figures and, because of this, we're observing a seismic shift in perspectives, even in the Western world."
He adds: "Historically, Pakistan has always been on Palestine's side. It's easy for us to speak out for them. What is beautiful and even heroic, though, is the way Jewish Americans are speaking against the genocide. We're observing a great awakening, where people are educating themselves with all the facts and realising that there truly is a mass ethnic cleansing taking place, and it is important to make noise against it."
Osman and also Ushna, among others, have been calling out for the boycott of products manufactured by Israeli corporations or those companies that have supported the Israeli army in its destruction of Gaza, for instance by providing it with food or financial aid. Some days ago, Ushna had tweeted about a US-owned international fast food franchise which reportedly has been supplying food to the Israeli Defence Forces. "Economic boycott is our only weapon, use it for God's sake!" she had written.
But can boycotts truly stop a war machine backed by the most powerful countries of the world? "Targeted boycotts do make sense," says Osman. "The BDS movement lists a large number of companies but by pinpointing five or six at one time and boycotting them altogether, we can actually hit them where it hurts."
There are people pointing out that a boycott is futile, given that most things that are part of our daily lives — including cellphones and popular online apps such as Facebook and Instagram — have connections with Israeli companies or are controlled by those who are distinctly pro-Zionist. "It's such a privilege and luxury that we can even afford to be cynical," Osman observes. "When the people in the midst of the horror are directly asking us to boycott and speak out, it means that it does make a difference. How can we argue with that?"
THE PRICE OF ACTIVISM
However, social media itself is a machinery that is largely operated by Western powers who are predominantly on Israel's side in the war. Instagram accounts reporting regular updates from Gaza have gotten deleted off the app. People posting frequently about the war and siding with Gaza on Instagram have realised that they have been 'shadowbanned' which means that many of their posts are unable to reach their followers.
For many celebrities, Instagram is a source of earning, a modern-day billboard where brands collaborate and advertise with them. Are they not apprehensive that they may face repercussions and lose out on revenue?
"But posting is all that I can do right now, and praying," points out actor Momal Sheikh. "I might lose out on work, but what is more important to me is losing out on the respect of my fans and the people who follow me. We are human too, we have to answer to God. There are people dying, helpless, and I can at least sacrifice this much for them."
Actor Mawra Hocane says, "I have been 'shadowbanned' on Instagram but the thought of not posting about the genocide never crossed my mind. It is all so overwhelming that nothing else seems to be as important. People are being wrongfully butchered and everyone — not just celebrities — needs to speak out. Tomorrow, it could be us. And perhaps the only way we can try to make a difference is by continuously talking about Gaza and boycotting products of Israeli origin."
She adds, however: "Also, I don't think this is a time to get involved in petty finger-pointing about who is speaking out and who isn't. The issue is much larger and, for me, it is important to do what I can so that I can face myself in the mirror every day."
Actor Mashal Khan adds, "When you have a platform, it is your duty to use it to speak what is true and right. That's why my Instagram is perpetually 'shadowbanned' — I can't not speak out and I have been speaking about the suffering of Palestine long before the war broke out."
Osman Khalid similarly says, "I have been posting and Tweeting about Palestine and going to protests for many years now. I have never calculated my activism and I certainly can't compromise on my morality and my humanity in the hope of a hypothetical job or endorsement.
"Perhaps I have lost out on work because I have always actively spoken out against what I have felt is wrong. But this goes beyond endorsement money. And I have always held the belief that no matter what, I will always persevere."
Mahira Khan, veritably one of Pakistan's biggest, most-loved stars, says, "Yes, maybe [speaking out in favour of Gaza] will affect my career. Maybe this will affect my career in terms of my work with international brands. There have been other times when I have spoken out for causes within Pakistan and it has affected my career here. It's a choice — and I choose to speak up, always."
Ushna Shah, in particular, has made Palestine the focus of her social media platforms for days now, posting and reposting articles, images and her own opinion consistently. Is she afraid that this might affect her career? "I don't fear that this will affect my career — I know it will. It already has," she replies.
"A lot of people assume that speaking about Palestine doesn't affect Pakistani celebrities but, if it didn't, most celebrities wouldn't be so quiet the way they are. It affects them, affects their prospects in Hollywood because there are Hollywood projects that are currently in the works here, in collaboration with streaming services who have partnered with Pakistan.
"It also affects multinational endorsements. Any kind of controversy affects it and this, particularly, is one that has been muted by world powers. So I know that it can affect my career — but do I fear that it will? No, I fear the fiery pits of hell more than I fear my career being affected.
"When people look back at World War II, they say that they would have done this or that during the holocaust. But the fact is, back then, if you spoke out against the Nazi regime, you didn't get punished with a fine or by losing your career. You lost your life, everything. It was so much harder to speak out back then.
"Right now, the risks are far less. You could get cancelled, get banned, lose your career, lose your job, but I don't want that 10 years from now, or maybe 20 or 75 years from now, people looking back upon this war and wondering what they could have done. I want to be able to rest in my grave in peace, and for my descendants to know that I did all that I could.
"And I am trying to do the most that I can, even if it is at the expense of my career."
Actor Armeena Khan's tweets regarding the situation in Gaza are heartfelt and often, heartbreaking. At one point, she tweeted, "It's the way their lifeless little heads fall backwards … I know what it's like to hold a tiny baby, they're so helpless, trusting … When I see those bloodied, battered bodies, a part of me just dies with them."
In another tweet she beseeched, "Let the children live!" And then, "They've just bombed a hospital! A hospital!!! Let that sink in."
Stars have the power to bring about change and influence millions of people who look up to them and follow them on social media. When they boldly address the inhuman, ruthless obliteration of Gaza, they manage to connect with many more people than any random social media commentator.
And yet, the choices that they make are often about personal interests vs speaking their truth: protecting one's career vs speaking out against blatant barbarism; holding on to your millions of followers on Instagram vs battling a campaign of disinformation by presenting facts to a reduced following; ensuring that some time in the future you manage to score a multinational endorsement vs refusing to chase a dream and doing what's right.
To each his own, and to each his own grave.
But if tomorrow, Pakistan were also subjected to a similar, unabashedly ruthless campaign from military superpowers, would we still be as understanding towards those who choose to remain silent?
Published in Dawn, ICON, November 12th, 2023