You may love it or hate it, denounce it or extol it to the skies, but you can't deny that awards season is very, very exciting. There's the lure of star-power, the long debates on nominations, the anticipation of who will win and a deluge of behind-the-scenes content filtering out on social media that has you waiting for the big day.
Awards season in Pakistan is, of course, particularly associated with the Lux Style Awards (LSAs), now in their 22nd year, the country's longest standing awards ceremony endeavouring to recognise excellence in entertainment and fashion. Is it still carrying out this responsibility in a balanced way? It's a long, long debate and a very pertinent one.
Even so, the LSAs are always exciting — more so, because most events in Pakistan have now disappeared. Fashion weeks have receded into the shadows to perhaps never ever return again and awards shows organised by TV channels tend to take place on international grounds.
The LSAs are more or less all we have in the way of major local events, and we really don't want to see it also disappearing from the yearly calendar. So, while in the spirit of critiquing honestly — one has to crib about the blunders and point out the categories that have been sidelined — one also wants to celebrate all that is great about the celebration.
Razzle dazzle and all that jazz!
Fortunately, this year's ceremony really packed in the punches in one essential aspect: star-power. The famous faces just streamed out endlessly on the red carpet, the fashion fraternity rubbing shoulders with the actors and directors, the musicians posing right next to the models, the photographers clicking and the red-carpet hosts interviewing until they were all quite exhausted.
While last year's ceremony had hit an unfortunate low in terms of celebrity attendance, this year certainly made up for it. There were the celebrities who were part of the event as performers, hosts and presenters and then there were others.
The Lux Style Awards, now in their 22nd year, were an entertaining watch but they also could have been so much more. As the country's longest standing fashion and entertainment awards ceremony, is it still carrying out its responsibility in a balanced way?
A lot of the nominees turned up as well as other stars, who were there to support friends or just 'enjoy the show'. Also, in a rare show of solidarity, power-players from all the three major TV channels — the Hum TV Network, ARY Digital and Geo Entertainment — were seated in the front row (one expects Green Entertainment to join the fray next year).
Even the fashion fraternity, which had been openly disdainful of the way the awards had unfathomably shrunk down the fashion categories, couldn't give up on the chance to make some savvy sartorial statements. It was a very positive turn of events, considering last year all and sundry had turned up their noses and declared that they just didn't want to attend.
Credit for this largely goes to the Hum TV Network, which had come on board as LSAs producers. The network has long-term associations with a major chunk of the fashion and entertainment fraternity, and many of them may have turned up as a show of respect for the channel.
Another significant factor was that this year's ceremony was announced well in advance, allowing enough time for anticipation to build and for guests to plan out their red carpet looks. In contrast, last year's LSAs had seemed to have suddenly popped up out of the blue.
Also, the simple logistical detail that this year's event took place in Karachi could have been a major game-changer. The entertainment fraternity is primarily based in Karachi and are, therefore, more likely to turn up when an event is planned in the city. Events that take place elsewhere tend to involve flying out of masses of guests and paying for their accommodation.
It was all quite dazzling, which was good since, to a major extent, the heavy-duty attendance made up for the other inevitable glitches.
Music, dance and razzmatazz
The show started off very well, with singers Faisal Kapadia, Shae Gill and Young Stunners paying tribute to some of the late Junaid Jamshed's greatest hits. The performance was possibly the best of the night.
There were others that were entertaining but far too similar to routines seen in a trillion other awards shows. Ali Zafar and fledgling actress and model Mamya Shajaffar danced to romantic numbers, and Farhan Saeed and Maya Ali put out a spirited, very colourful performance to some of the year's hit film songs.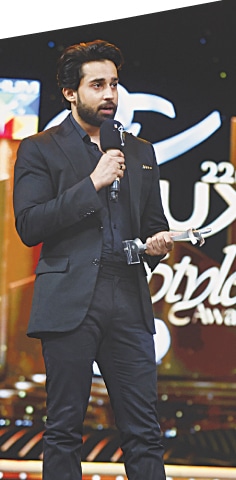 Kaifi Khalil came on stage to lip sync to his two major hits: Kahani Suno and Coke Studio's Kanna Yaari. The young singer, so clearly devoid of airs, simply moved about to the music while the background dancers moved energetically. He isn't your usual media-savvy rockstar, dancing and grooving easily but, rather, stayed true to his persona.
It was endearing, although it didn't make for a very riveting performance. Having said that, Kaifi Khalil is so well-loved and so widely popular right now that just placing him on stage was enough to have the crowd cheering.
Saba Qamar paid tribute to Reema, with the Lollywood heroine — having flown in from abroad where she lives now — joining her on stage towards the end and matching her step to step. It was quite iconic, seeing two of Pakistan's most successful actresses, past and present, dancing together. The routine would have been even more of a hit had one of the songs that Saba was performing to not have originally been picturised on actress Saima rather than Reema!
While Reema acted in the movie Nikki Jayi Haan, the title track of the same name had been filmed on Saima and Moammar Rana. Surely, given Reema's slew of hits, some other song could have been selected for the LSA tribute.
Nevertheless, the music and dance added some great energy to the show — the same could not be said, however, about the comic skits. Ahmed Ali Butt, at some point during the ceremony, said that he was not allowed to make jokes this time round. Ahmed's impromptu witticisms are his forte — why get him on board at all if such restrictions were at play?
And then there was the 'Miss Zara Sa Lux' segment, featuring Fahad Mustafa and Mira Sethi, which was really so inane that it had one zoning out!
The show's saving grace was perhaps Fahad Mustafa, who was co-hosting along with Ahmed Ali Butt, Saba Qamar and Durr-i-Fishan Saleem. Hosting comes naturally to Fahad, his skill honed over years of being the front-man in the game show Jeeto Pakistan.
He quipped and made inside jokes that were probably not part of the original script, and which were so frequent that they will be keeping the show's editors quite busy. For the live audience, Fahad's constant banter was often entertaining.
What was not entertaining were the repetitive jokes. Last year, the celebrities on stage had made jibes about the bloggers in the audience. This time, yet again, there were plenty of cracks made at the expense of the print and electronic media. The hosts discussed how they were extending a favour to bloggers by providing them with social media content for weeks. Sweeping statements were sarcastically made about how bloggers tend to thrive on all things negative!
If the artist community detests social media pages and journalists to such an extent, why invite them in the first place? Doesn't the event's hype entirely depend on content uploaded promptly on social media?
Is the dissent between artists and the blogging community so pronounced that it has to be laid out in public again and again? The jokes were hardly funny in an auditorium which consisted largely of social media publications!
You win some, you lose some, you skip some, you surprise some
More than anything else, the awards results kept the show exciting — simply because some of them were so unexpected, particularly where viewers' votes were concerned.
Relatively new actor and YouTube sensation Arsalan Naseer beat established stalwarts in the Best TV Drama Actor (Male) Viewers' Choice category. Actor Feroze Khan similarly hauled in the highest number of votes in the Best Film Actor (Male) Viewers' Choice category for the movie Tich Button — a movie in which his role was entirely half-baked, not that his fans cared as they cast their votes.
Yumna Zaidi, a major favourite, won both the Viewers' Choice and Critics' Choice awards for Best TV Drama Actor (Female). Peela Rung, the peppy shaadi number from the movie Parde Mein Rehne Do, won Best Film Song Viewers' Choice, beating, among others, Reshma's hypnotic vocals in the movie Kamli.
While Pasoori predictably ruled the music categories, the very limited fashion categories held their own surprises, such as Aleena Naqvi winning Best Fashion Photographer, becoming the first woman to do so. Fashion, though, barely had any presence at the awards. None of the current lot of designers and models were invited on stage as presenters, and the categories were shrivelled down to the point that it was obvious that fashion was merely a filler at the event.
It is understandable that media has largely become 'celebri-fied' but how could the LSAs sideline fashion to this extent? A mere Best Fashion Forward Brand category was supposed to suffice for the various genres that encompass the industry, including bridal-wear, luxury-wear, lawn and menswear.
Similarly male and female models were bunched together into a gender-neutral Best Model category. 'I grieve fashion' was emblazoned on a massive cape worn by designer Fahad Hussayn, making a statement on behalf of his entire community. The LSAs may rely heavily on celebrity for glamour, but it needs to be remembered that it is the fashion fraternity, with its unique style statements, that adds sophistication and the erstwhile 'style' element to the show.
Where art thou, style?
Which brings us to the style at the show. There were the gowns and the 'gowans', the crazy statements that worked and the blingy embroidered shaadi-wear which didn't. Actors, catering to a mass audience inclined towards conservatism, tend to make a beeline for clothes that are somewhat chaste, eschewing designs that will make aghast social media commentators ask them, 'Are you Muslim?'
The fashion fraternity, meanwhile, dresses to the hilt at the LSAs, shaking out the slinky, sleek numbers and opting for vivacious bursts of colour. With many of the attendees working in alignment with stylists, the Best Dressed at the LSAs list could be a hefty one — and the Worst Dressed would be just as long!
In retrospect, it doesn't matter. What mattered was that so many people came. Despite cribbing about the awards for weeks beforehand on social media, they still didn't want to miss them. And while many will deny it, everyone likes to win, to pose with a silver statuette before proudly bringing it home. The LSAs, despite its many detractors, still matter.
Consequently, the ceremony needs to take itself more seriously. The nomination categories need to be sorted out. There need to be lesser glitches. The script needs to be worked on for longer. The LSAs, in their 22nd edition, were an entertaining watch — but they could have been more, so much more.
Published in Dawn, ICON, October 15th, 2023