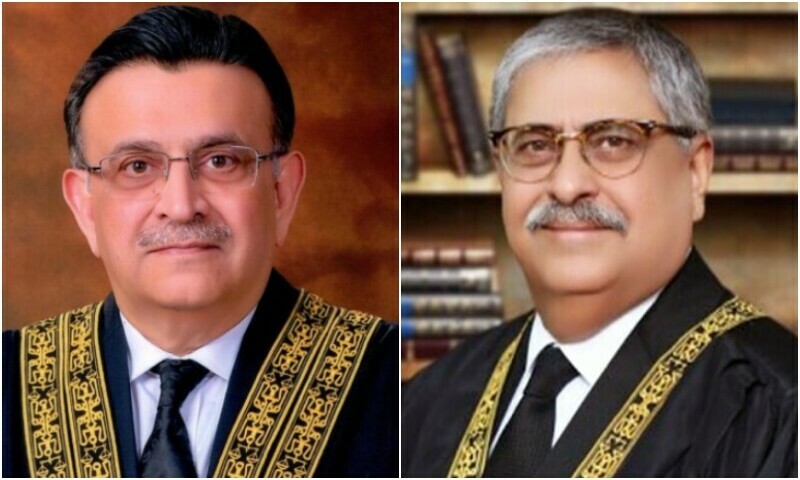 ISLAMABAD: The Supreme Court has disposed of an application by an international asset recovery firm seeking access to the secret report compiled by an investigation team which incriminated former prime minister Nawaz Sharif and led to his disqualification.
In 2018, a Washington-based asset recovery firm Messers Broadsheet LLC filed the petition to seek a copy of Volume 10 of the report compiled by a joint investigation team probing the ex-PM's off-shore properties after he was named in the Panama Papers.
On Tuesday, a two-judge bench consisting of Chief Justice of Pakistan (CJP) Umar Ata Bandial and Justice Athar Minallah, took up the case.
The firm's counsel, Sardar Latif Khosa, wondered what sensitive information was hidden in the Volume which couldn't be revealed.
Under Article 19 of the Consti­tution, it was the people's right to know "who plundered the country's wealth," Mr Khosa argued.
The court reminded the counsel that he was representing an international firm and not the people of Pakistan and therefore he should restrict himself to the case instead of making arguments of political nature.
Mr Khosa replied he only wanted the people to know the entire truth.
Justice Minallah observed the court will not go into the controversy since an elected PM was removed based on this report.
He also wondered whether the five-judge bench — which had disqualified Mr Sharif in 2018 — made any observation about the volume in its judgement.
The petitioner wanted Volume 10 for the arbitration case but it was no longer alive since it had been settled at the international court, observed Justice Minallah.
Volume 10
Volume 10 was part of the investigation report compiled by a JIT led by former FIA DG Wajid Zia. It contained the details about mutual legal assistance agreements signed with different countries and was sealed by the SC on Mr Zia's request, who had claimed that making it public would jeopardise the ongoing cooperation with foreign countries.
Broadsheet LLC sought the volume to submit as proof in the $500 million lawsuit it brought against the Pakistan government over agreements signed with NAB.
The accountability watchdog had acquired the firm's services during the era of ex-president Pervez Musharraf to help recover Pakistan's stolen assets stashed in different offshore companies.
The dispute arose on the payment of service fees and was referred to the international arbitration in London where the litigation before Arbitrator Sir Anthony Evans QC concluded in an interim award in terms of liability under Sections 4 and 6 of the Recognition and Enforce­ment (Arbitration Agree­ments and Foreign Arbitral Awards) 2011.
The company was paid $28.7m by the government in 2021 after the arbitration was ruled in its favour.
After the settlement, the then PTI government formed a one-man inquiry commission, headed by ex-Supreme Court judge Azmat Saeed Sheikh, to investigate the matter.
Published in Dawn, August 23th, 2023